As the impressive blue tidal surges of the Saltstraumen swirled around our rib, I was ever so thankful that I wouldn't be bringing my Schiller bike this far inland. Two hours earlier I'd made my way into Bodø and found the nearest low-lying pontoon to the Hurtigruten dock. Soon afterwards two ribs joined me on the pontoon, piloted by Andrea and Meike from Stella Polaris.
"We're taking Hurtigruten passengers to the Saltstraumen whirlpools," Meike said. "You should join us!" invited Andrea. And that was that, it would appear that timing is always impeccable when a water bike is the transport.
I set off from Bodø late in the afternoon and was hit by growing winds before I'd made it across Saltfjord. It was a relief to eventually find a beach and pitch my tipi, then gather some driftwood for a fire to dry my shoes and socks, which truly haven't been dry for weeks.
The next morning the wind was still up to its tricks, gusting over 25 knots, which is just a little too much for comfort. My worst nightmare on this trip is to capsize and the only likely culprits are large waves and high winds. The other is bring struck by a boat or having a whale breach directly beneath me, the latter is the only one I don't have control of - the other three I can actively avoid by making sensible decisions. And this day was one of those times, I buried my left shoulder into the wind and edged into the nearest marina, which just happened to be overlooked by a Spar with a cafe. What are the chances?!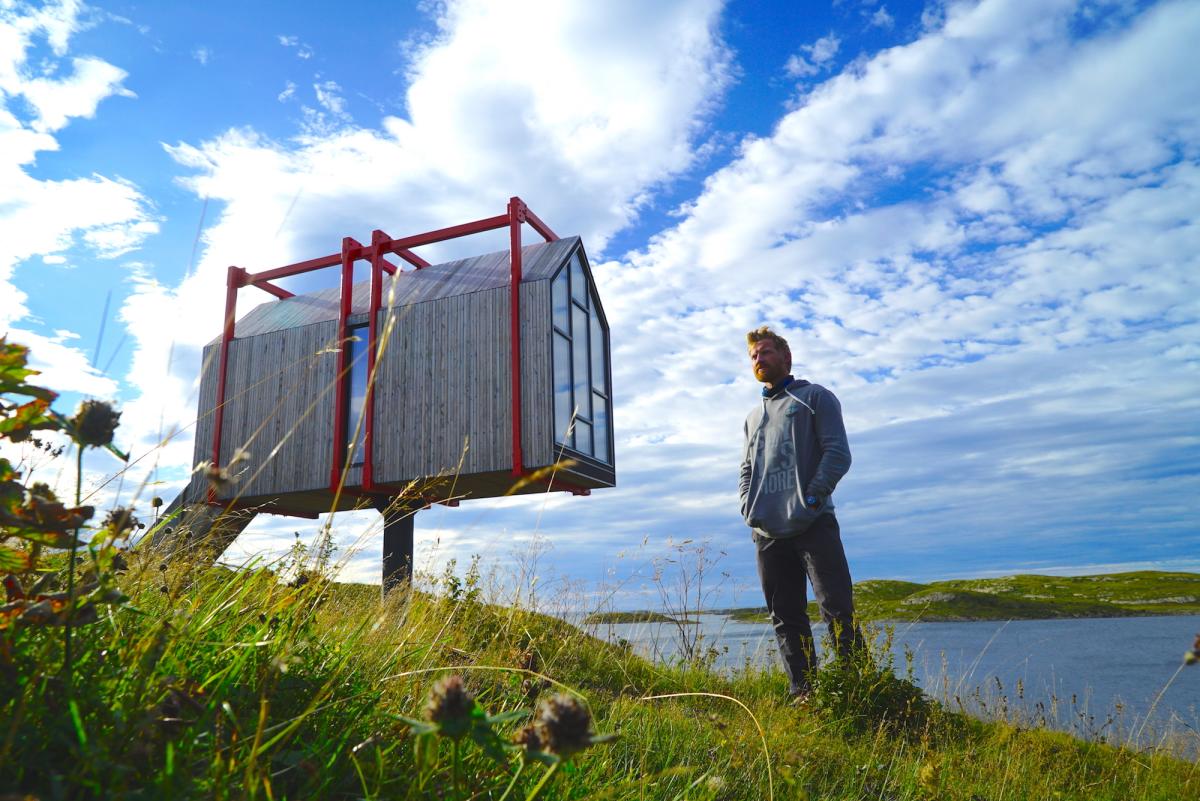 For three hours I nursed a coffee overlooking the water at Sandhornøy as evil-looking blasts of air sped over the surface. The store manager, Sandra, had asked me to let her know when I was leaving so she could take a photo and unbeknownst to me she'd told her boyfriend I was here. "My name's Håvard," said a breathless man as he shuffled into the corner seat opposite me, "I heard you were here and I came running. I've got a place you have to see."
When Håvard showed me pictures of his 'place' I couldn't resists, and decided to end the day on a mammoth 1.7 miles. Minutes later we were in a speedboat bouncing over the waves to an archipelago several miles off the coast, and I can honestly say the rest of the day and the location of that night's sleep was immediately bumped towards the top of this journey's highlights. Fordypningsrommet was something else, a creative and architectural masterpiece that I'm quite sure will be the dwelling of choice for artists and writers on this coast for years to come. The peace, views, sense of protection from the elements and unique, waving sensation when sleeping in an elevated hut based on Sami food stores - all of this took me to a different place and I resolved to return here to write my next book.
A day off the water always does wonders, and as sad as I was to leave Håvard, Sandra and their island base it always feels good to gain more ground. The 1000-mile mark on these journeys is my holy grail and I don't get there by sitting around. I skipped from island camp to island camp, soaking up the Northern Lights on clear nights and occasionally popping into a marina or waterside town for supplies but spending the majority of my waking hours on the water travelling at 5kmph, inching south.
On the island of Dønna I arrived at the southern marina as dusk began to fell. "We can find you a bed," said the first men I met, and I was driven up to a community-renovated house on top of the nearest hill. "Rest well," waved Magne as he rushed off to see his family.
I felt blessed by the weather, all around isolated rain showers fell across fjords, everywhere but over me. Until a 150 metre-wide column of water started making its way in my direction and all of a sudden I was utterly drenched. But boy was it worth it, the resulting double rainbow diving beyond its pot of gold into the water at each end of the arch. Gorgeous. 
As I made my way against the current into the long Bronnøysund harbour I saw a figure at a window of a waterside office building open his window and stare at me in disbelief. Then another window opened, then another and I waved at twenty faces and cameras, giggling that work at the local government building had just come to a shuddering stop.
Bit by bit I was ticking off the Hurtigruten ports as I moved south. Ornes, Nesna, Sandnessjøen, Bronnøysund and then, after one of those days when the rain hasn't stopped and my skin was reconsidering its natural waterproofing, Schiller and I paddled into Rørvik and fell into a marina apartment, desperate for a long sleep.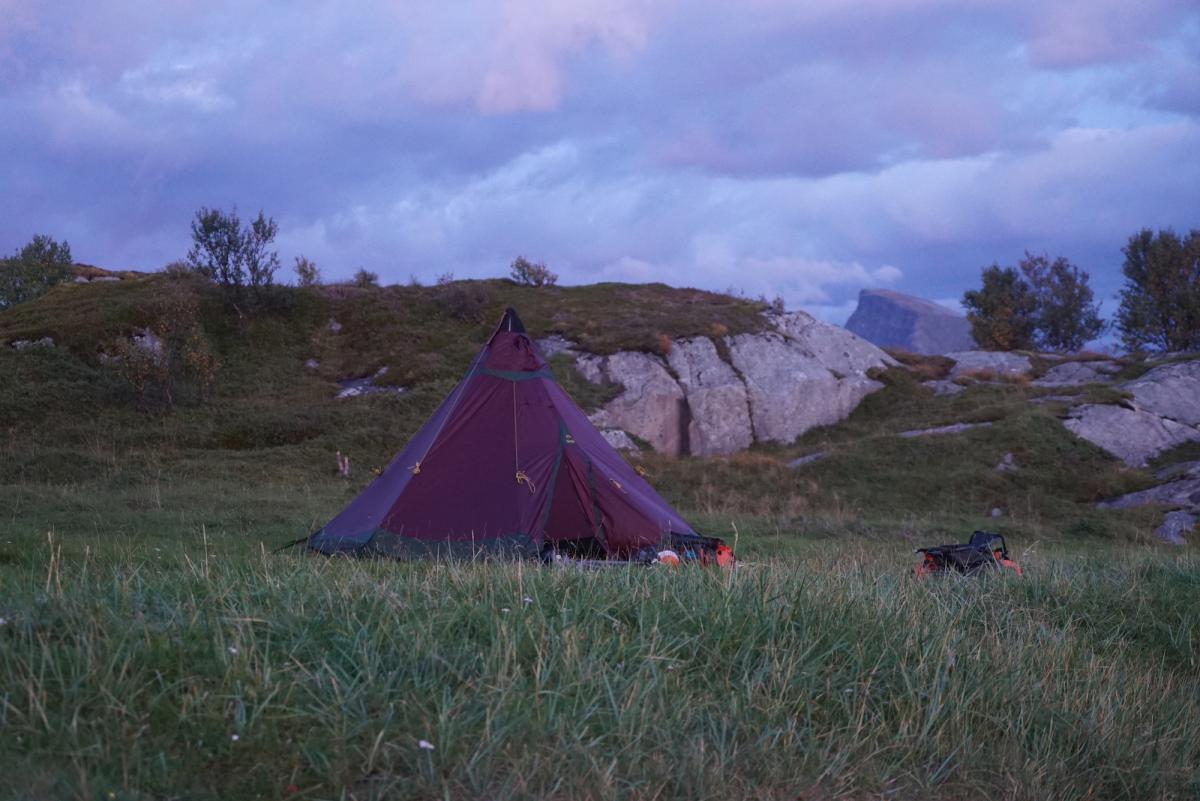 See where Dave is right now and more background information about this trip. Also read Dave's other blog posts.