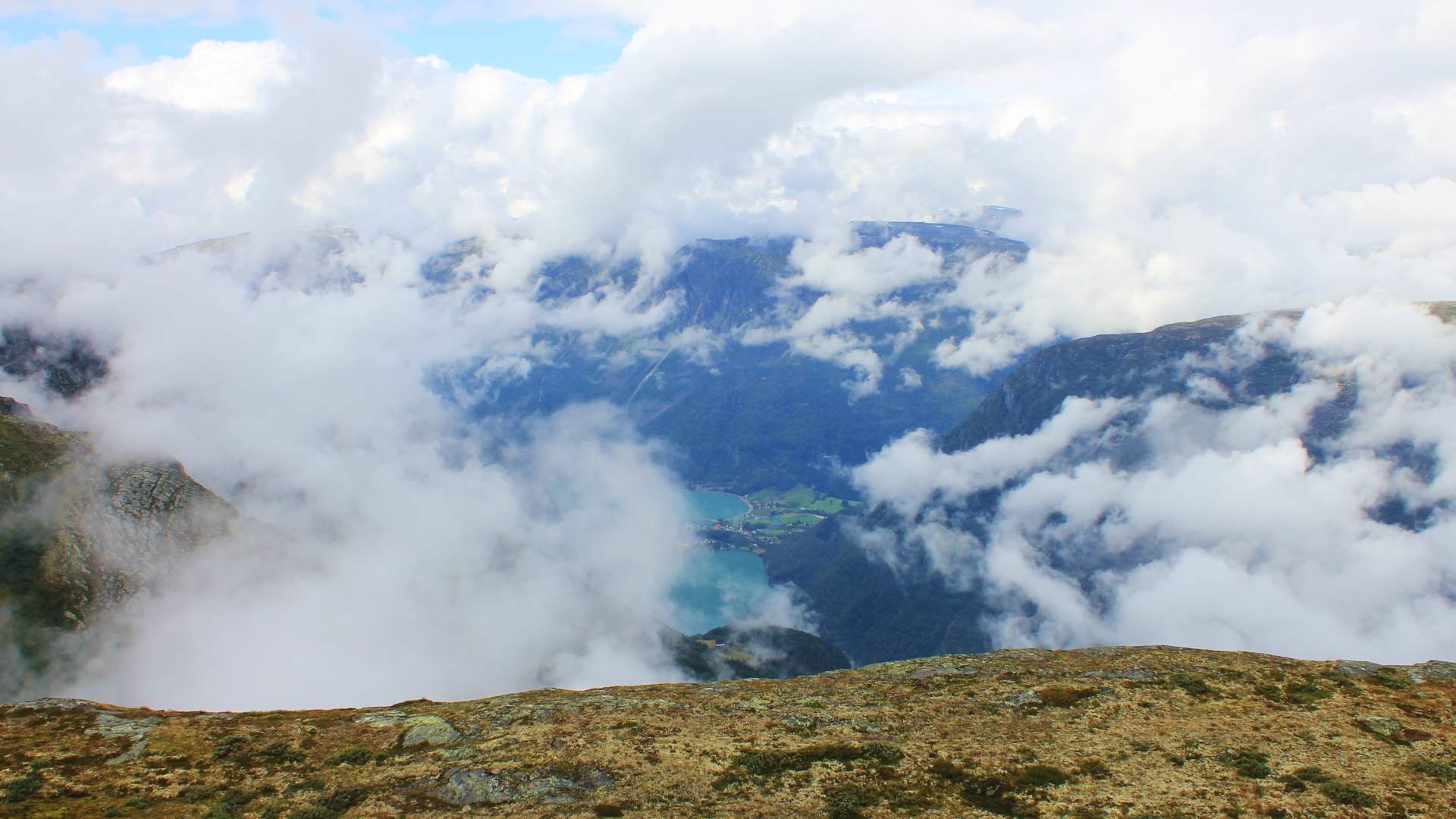 Short hike throught open mountain terrain to lovely viewpoint.
Lusterfjorden is the inner part of Norway's longest fjord: Sognefjorden. What we see from the viewpoint is the very end of Lusterfjorden: Haugsbukta (The Hauge Bay). The village between the fjord and the lake is Skjolden. Skjolden has about 300 inhabitants. There is a hotel, a café, an inn and three camping sites in or around the village. Two valleys and their rivers meet here: Mørkridsdalen and Fortunsdalen. The water from the Fortun River is exploited in three hydroelectric Power Stations. The main one is situated at Skagen 6 kilometers from Skjolden. In the summer trout and salmon go upstream from the fjord to spawn in the rivers. Although the Fortun River is stocked with fry every year, very few return to the river.

Eidsvatnet  is a part of the Fortun River. In 1914 the world-famous Austrian philosopher Ludwig Wittgenstein  built a hut at the upper end of the lake. In 1957 the hut was moved to the village. Only the foundations are left at the site.

In the steep mountainside opposite us we see the abandoned mountain farm Gjerseggi. The farm is situated 350 meters above sea level, and was abandoned in 1968 because a large stone slide had damaged part of the cropland on the farm and threatened the farmhouses. To the left we see the mountain farm of Furåsen. The farm is situated at 380 meters above sea, and was abandoned in the early 1990s.

To the east the Hurrungane massif  contains some of the highest peaks in the whole of Jotunheimen. Skagastølstindane, Ringstindane

Parking:
Drive Tindevegen ( mountain road between Turtagrø and Årdal). Park by the side of the road at the information board. You find the board at the highest point on the first mountain you cross when coming from the Luster side. Approx. 7 km from Turtagrøand Austabotntindane are visible from our viewpoint.
Last updated: 09/08/2023
Source: Visit Sognefjord AS
Your recently viewed pages