Hike to Skåpet in Forsand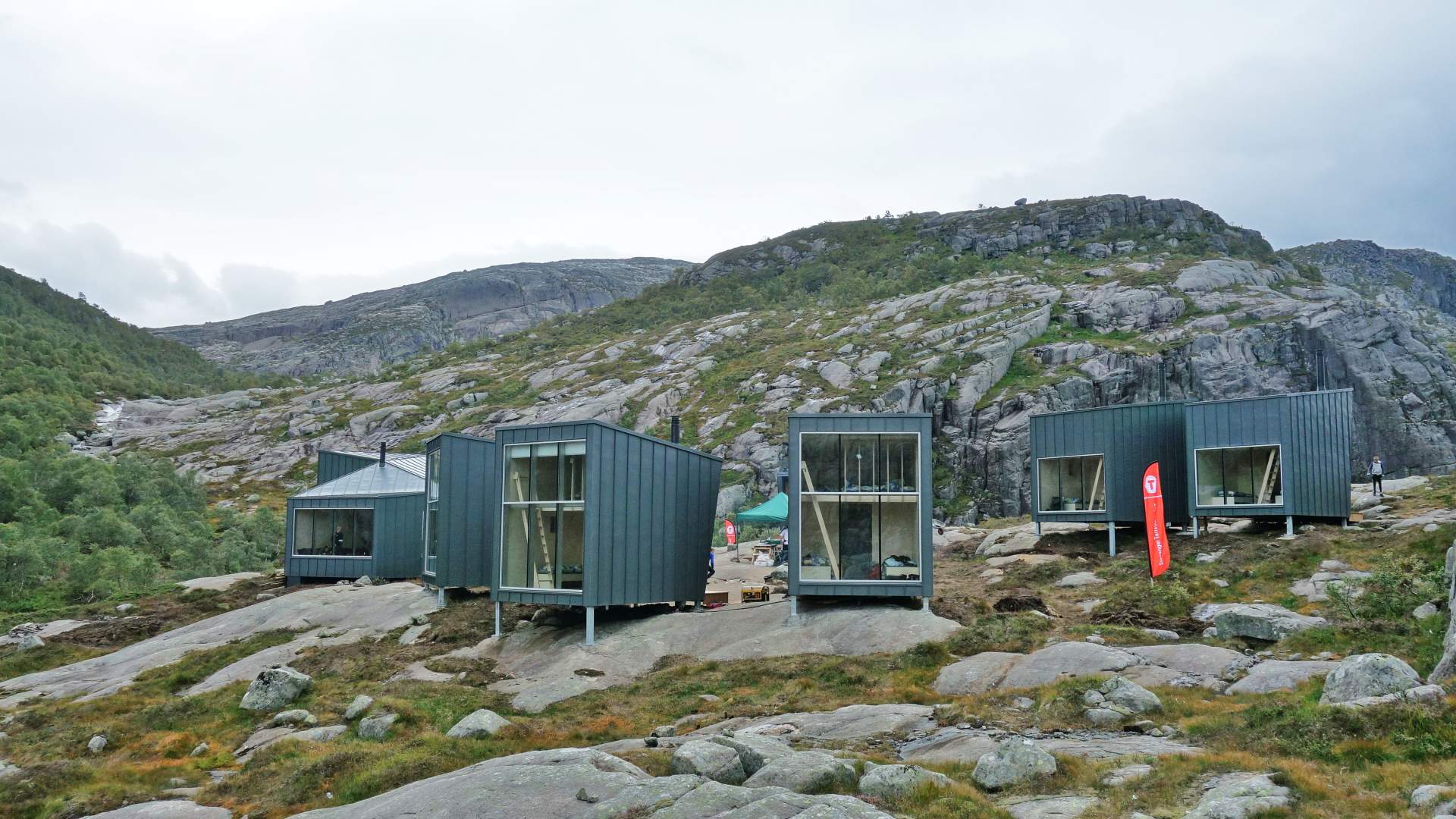 Skåpet is a self-service lodge designed by Estonian Koko Architecture + Design. The spectacular lodge is the gateway to the grid in Frafjordheiane on the south side of the Lysefjord. From Skåpet you can continue to Flørli and Kjerag. 
Vinddalen to Skåpet in Sandnes Municipality (formerly Forsand Municipality), Ryfylke
From the parking lot at the end of Vinddalen, cross the Vinddøla River on a bridge and follow a good trail that winds between trees and stones into the pine forest. After a few minutes, you will pass a red cabin. This is one of the line cabins that Stavanger E-verk built in connection with the power line from Flørli, which was constructed shortly after World War I. The hike continues through Tyrejuvet, partly on an impressive stone-paved and built pathway. In the marshland beyond the gorge, there is a junction for the hike over to Fossmark and Skrøylå. The journey continues through the valley east of Krylryggen and through sparse birch forest until reaching Skåpet.
Skåpet, owned by Stavanger Tourist Association, features self-service cabins designed by Estonian Koko Architecture + Design. The concept consists of a main cabin with a common living area and kitchen, as well as a couple of bedrooms and a loft (accommodating 12 people), while the remaining beds are distributed among 6 separate cabins that are placed as independent satellites throughout the terrain. Each of the small sleeping cabins has five beds and full panoramic windows on the side facing Soddatjørn. Skåpet is equipped with what you need for cooking and staying: kitchen utensils, tableware, and bed linen. There is no electricity, but there is gas, wood-burning stoves, and candles. Guests are responsible for cooking, fetching water, washing dishes, cleaning the floors, and tidying up the cabin inside and outside. A sheet liner or sleeping bag should be used in the beds during winter, while a sheet liner is required during summer. Instructions are available in the cabin. There is an outdoor shower and sauna in a separate building on the premises.
This spectacular cabin serves as the gateway to the trail network in Frafjordheiene on the south side of Lysefjorden. Skåpet is also the first overnight stop on the Lysefjorden Rundt hike, a continuous week-long trek around the entire Lysefjorden that includes the world-famous attractions of Preikestolen, Kjerag, and Flørli's 4,444 steps.
Last updated: 09/11/2023
Source: Reisemål Ryfylke
Your recently viewed pages