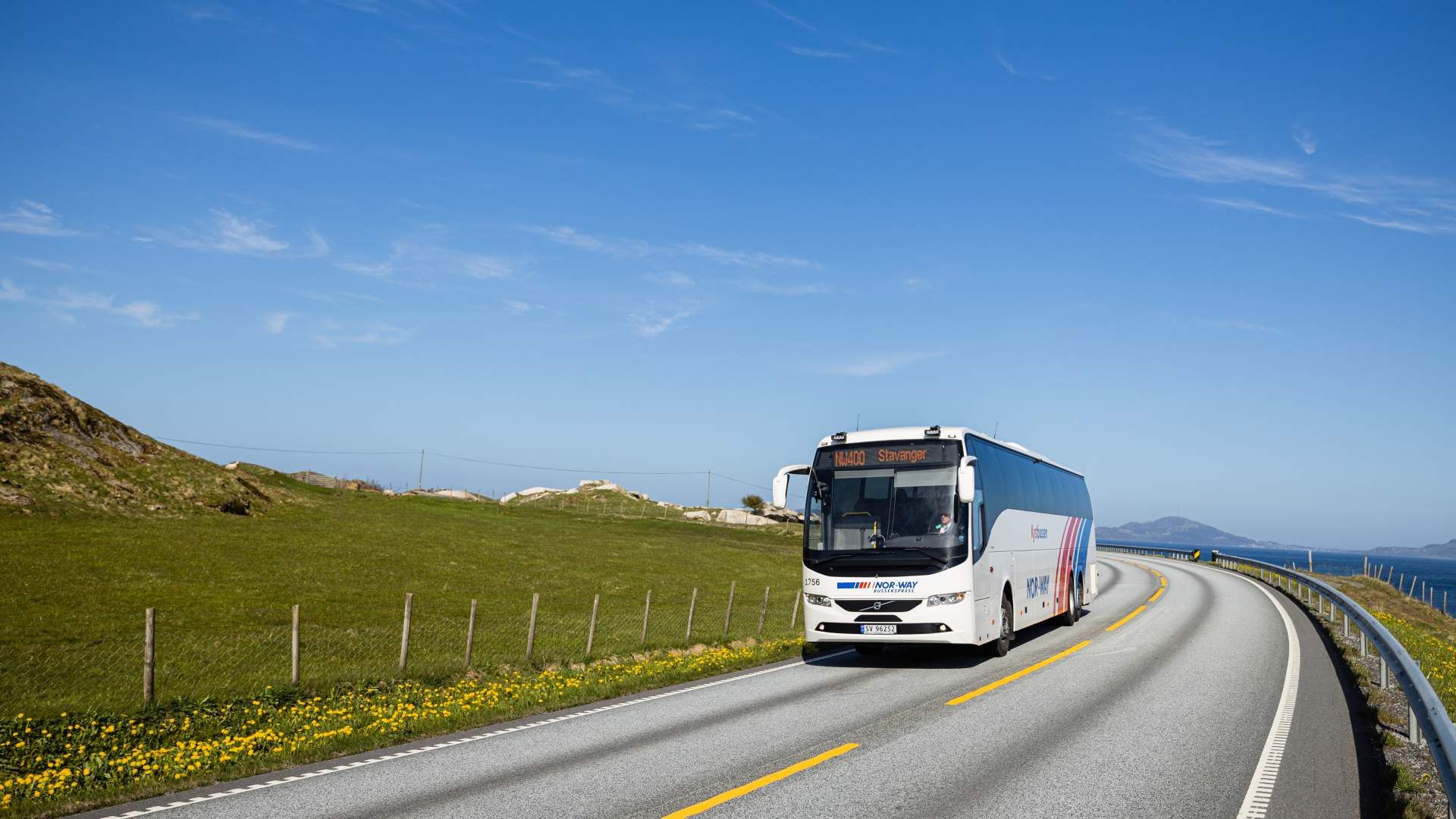 Travel quick and comfortable with Kystbussen from Bergen, Leirvik or Stavanger to Haugesund.
Kystbussen Express Bus between Bergen and Stavanger takes you easily from one city centre to another along the beautiful west coast of Norway.
Kystbussen has frequent departures in both directions all day, all week, and brings you to central terminals for connecting routes to other national and international destinations.
Their modern buses are equipped with comfortable seats, power sockets and WC on board. The trip between Bergen, Leirvik and Haugesund includes a ferry trip across the Bjørnefjord (approx. 40 minutes crossing), and the trip between Bergen and Stavanger also includes a ferry across the Boknafjord (22 minutes crossing). Several underwater tunnels are also a part of the trip. Click here to search for your journey.
Main stops along the route:
Haugesund: Bus terminal
Bergen: Bus station, platform N
Leirvik: Bus terminal
Stavanger: Byterminalen
Travel time:
Haugesund-Bergen: approx. 3 hours 15 minutes
Haugesund-Stavanger: approx. 2 hours 10 minutes
* travel time can vary slightly depending on route 
Practical information:
All their departures does not stop in Haugesund. Please check the travel planner.
You have two pieces of luggage included in your ticket (max 30 kilos). You can also book space for additional luggage. For each piece of extra luggage, Kystbussen charge 50 NOK. Read more here.
You can reserve a child seat when booking your ticket. There will be 1-2 seats available for each departure, but they can only guarantee a free seat if booked in advance. The seats are for children between the age of 1 and 4 years. For children under 8 kilos, it is recommended that you bring your own seat. In addition, Kystbussen have two booster seats available for older children.
Foldable strollers can be stored in the luggage rooms underneath the bus.
You can reserve a space for your bike (normal or electric bike) by adding it to your ticket. An additional fee of 270 NOK will be added to your ticket. There is only space for 1-2 bikes on each bus, so make sure you book early. Read more here.
The ferry ticket is included in the bus ticket
You cannot bring animals
Most of their buses have a wheelchair lift. If you are in need of special assistance (f.ex. with wheelchair in and out of the bus) please contact Kystbussen before 15 p.m. at the day before departure here.
Travelling with children?
Then Kystbussen offer a discount! When one full paying adult and one child (6-17 years) are traveling together you get a discount. Place 1 adult and 1 child in your order and then add the discount code familie. 
Last updated: 09/11/2023
Source: Destinasjon Haugesund & Haugalandet
Your recently viewed pages