Dale Stone Church, Luster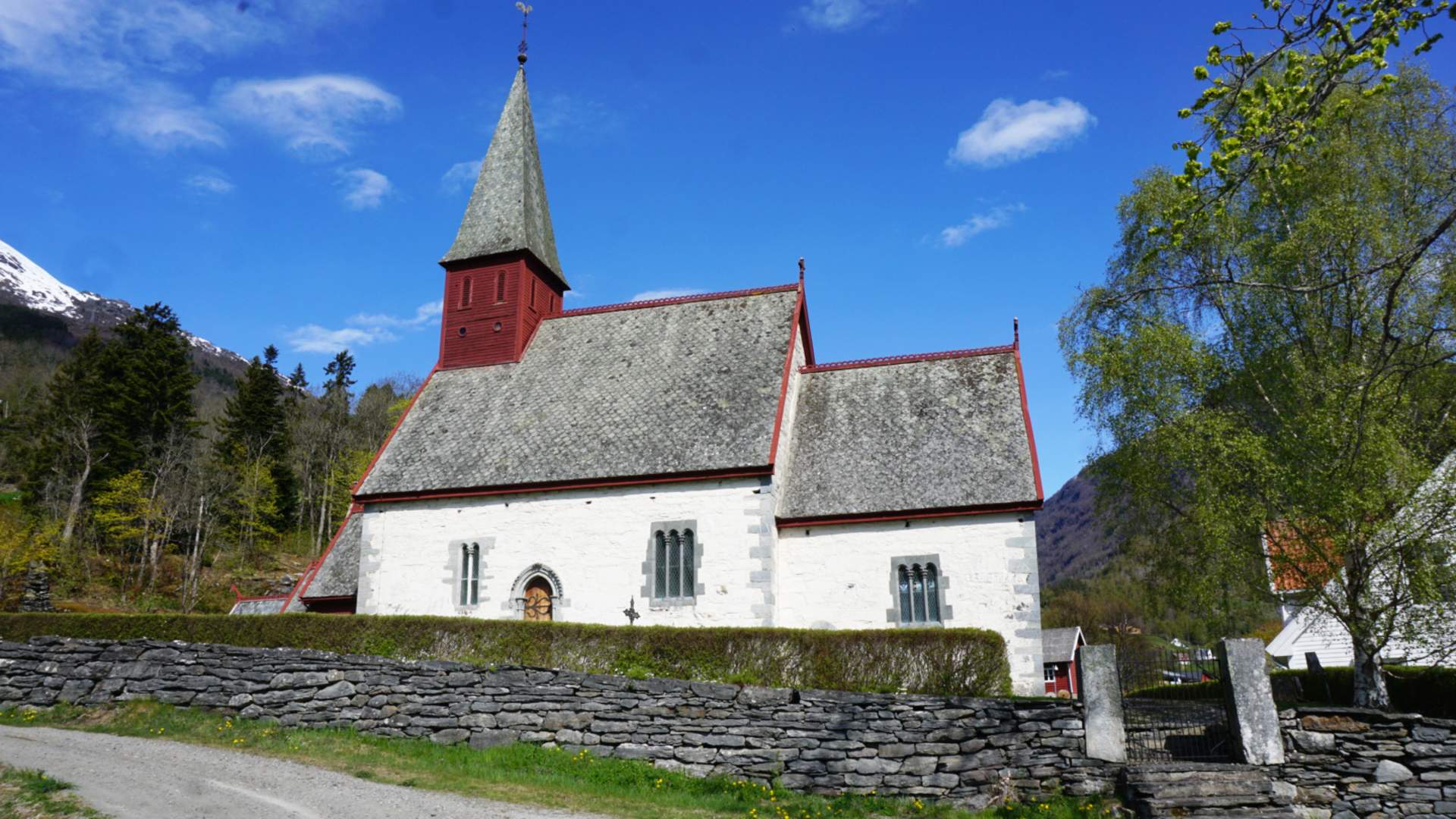 Dale Church, in the village of Luster, is a distinctive stone church from the 13th century, with, among other things, Gothic architecture and murals from the 15th century. Open to visitors.
Dale Church is the main church in Luster, and it is dedicated to st. Nicholas (according to a runic inscription uncovered in 1903). The church is mentioned in 1306. Samples of the wood in the roof over the nave are dated to 1220–29 and over the chancel to 1241, although the chancel is usually built before the nave. There has been speculation about the reasons for this, and one possibility is that there was previously a stave church here which was kept as a choir until the ship was finished.
So we are dealing with a medieval church, and it is mostly made of stone - a long church like that. The choir is just finished, the walls are one meter to one and a half thick, and the gables are completely bricked up. Soapstone blocks have been used in door and window openings as well as corners; this stone should be carved in a local quarry. The ship has portals to the west and south and the choir to the south. Especially the pointed arched west portal (inside the porch) is impressive: a cornucopia of a portal that goes to be the most lavish medieval portal in the country outside Nidaros Cathedral, and which is actually a bit oversized for the relatively small church.
The south portal is somewhat simpler, but still has carvings, and the choir portal is the simplest of the three. Of the window openings, the southwest is in the nave from the Middle Ages and possibly the choir's east and north windows, while other windows were added in the 17th century before attempts were made in 1903 to reconstruct medieval windows.
Last updated: 11/08/2023
Source: Visit Sognefjord AS
Dale Stone Church, Luster
Your recently viewed pages