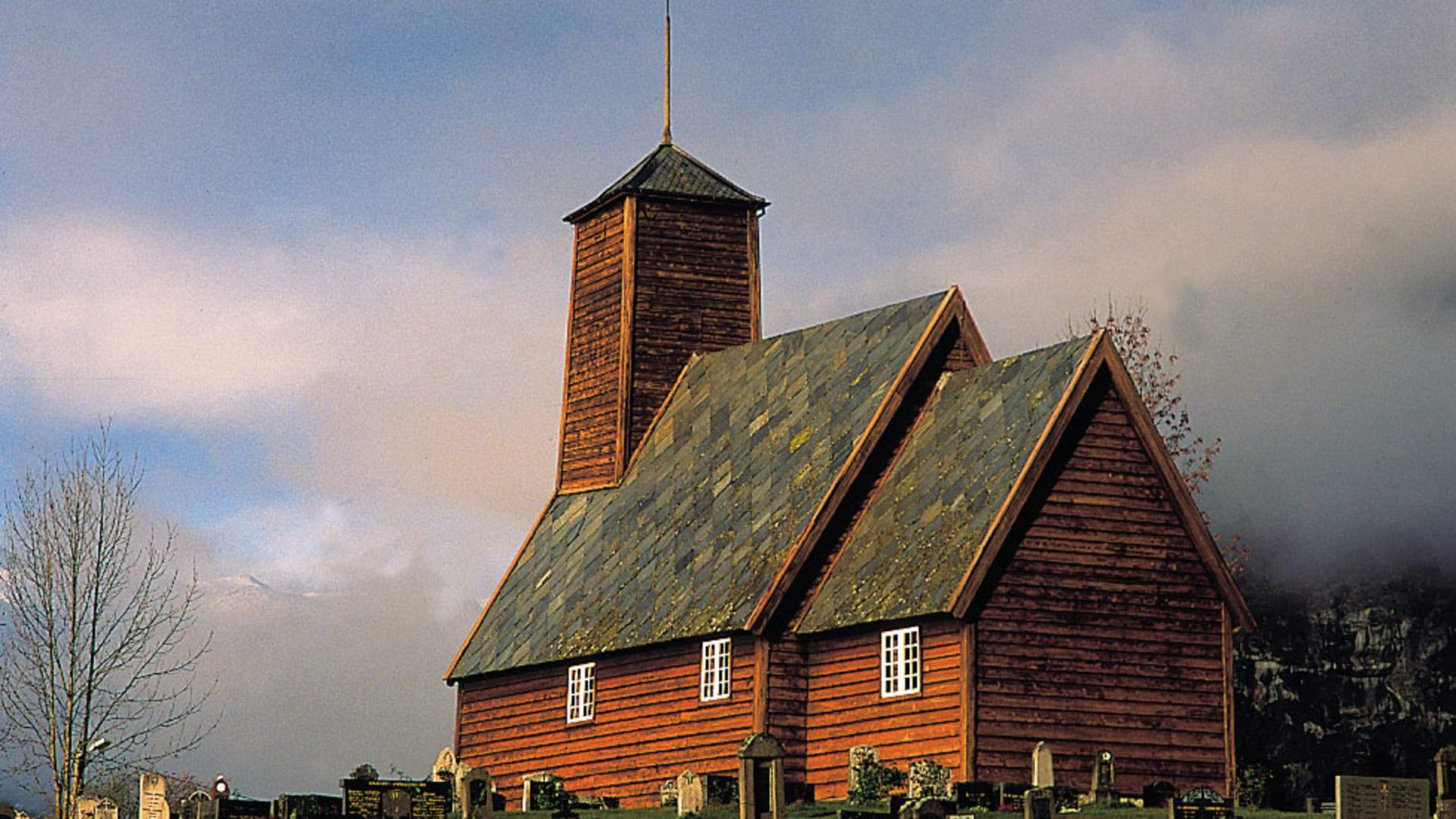 The old church of Gaupne is a beautiful example of old Lutheran style with its ornamented bench sides, tendril paintings on the walls, catechism tablet from 1589 and pulpit.
Ornate interior in a simple timber church
The colourful and elaborately decorated interior of Gaupne old church contrasts with its simple exterior. The church was built in 1647–1652, and it replaced a stave church that stood on the same site. Parts of the stave church were reused, and the western portal with carved snakes and dragons can be dated to the second half of the 12th century.
Cog-jointed timber, boarding and decoration. Gaupne old church, both grand and simple, is located on a hilltop overlooking Gaupne, the administrative centre of Luster municipality at the end of the Sognefjord. The nave, chancel and porch are built from cog-jointed timber clad with boarding. Inside the church, we find a colourful and elaborately decorated interior. The timber walls of the nave and chancel are painted yellow with red vines and bunches of grapes with black contours. The walls of the nave were decorated in 1658–1660. The ceiling is also decorated. The ceiling in the nave is yellow, while the ceiling of the chancel is painted blue with white stars and a moon. The pulpit dates from 1626. The altarpiece is a catechism altarpiece from the Reformation, and it bears the union arms of Denmark–Norway as well as text in Latin and Danish. The old church, which could seat 130 people, was replaced by a new church which was completed in 1907.
Last updated: 06/20/2023
Source: Visit Sognefjord AS
Your recently viewed pages