Farm experiences by Mjøsa lake:
A countryside escape
Enjoy your morning coffee outside in the garden while taking in the view, and the scents and stillness of nature.
A holiday in the countryside is all about relaxation and feeling connected with the planet.
And food! Delicious food, which comes straight from the field to the table – served in a cosy setting, of course.
You'll find plenty of welcoming farms by Mjøsa, Norway's biggest lake, each offering guests a unique experience.
And the best thing? You can easily go from one farm adventure to the next, by bike or by car.
So, get ready for historic gardens, rural luxury and cosy farm shops in lush Innlandet county in Eastern Norway, a paradise just an hour and a half from the capital Oslo.
The area around Mjøsa lake is renowned for its cultural landscapes and incredible manor farms. Each farm has a fascinating history to explore, along with unique culinary and nature experiences. Plan your cosy farm holiday with our tips on what to see, eat, and experience.
Start exploring
If you're heading north from Oslo in the direction of Trondheim, you're most likely travelling on the E6 motorway. The E6 is a popular route through Norway, but what most visitors don't know is that they are passing a countryside paradise on their way.
So, when you reach Ringsaker municipality, an hour and half outside Oslo, do make a very rewarding detour to the idyllic Nes peninsula and Helgøya island. Listen to the bumblebees buzzing among the fields of barley, feel the hectic pace of urban life subside, and breathe in the fresh country air.
The landscape is open, with large farmland areas, only interrupted by the shimmering blue lake. Surrounding the lake are numerous traditional farms, some of which have been here for generations. At one farm, you might find a farm shop offering a taste of local specialities, another makes the most incredible home-cooked meals, while some welcome you to a rural overnight stay. What do you want to explore first?
One of the really great things about the farmland around Mjøsa lake and at Nes and Helgøya, is that it's excellent to explore by bike, car, boat, or on foot. And what a place to go on an adventure! Small country lanes take you from one highlight to another.
Whether you're travelling as a couple, a group of friends, or solo, you will definitely find a place and activity that's perfect for you.
Let's take a round trip of the area!
We start in the very heart of Mjøsa lake, at Nes and Helgøya.
The area might be small, but it's truly a route of discovery where you will find authentic local experiences and sensory delights.
One must-visit destination on the island is Hovelsrud Gård, one of the biggest farms in the area.
Hovelsrud is run by Marianne Olssøn. She is a lawyer by profession, but in 2009 she also became the owner of the family farm.
"My great-great-grandfather, Nils Hoel, built all of this in 1840."
Marianne
One of the most spectacular things about Hovelsrud is its incredible garden.
Notice the geometric shape, with its central axis, and the path that leads visitors all the way from the main building and west to Mjøsa lake.
An impressive design, right?
Hovelsrud's historic garden
Hovelsrud's garden has not always been as spectacular as it is today. Between the 19th century and when Marianne became the owner in 2009, the property was very different from how it had been in her great-great-grandfather's day. But once Marianne took charge, the work to bring both the house and the garden back to their original state began in earnest. It was a massive undertaking, with an even more impressive result.
"For me, it was important to return the garden to how it used to look like in the 1840s. There's so much history here. It's been fun doing it as well," says Marianne.
One thing Marianne really likes about her garden, is that almost everything grown in it is edible. Here, you can stroll among gooseberry and blackcurrant bushes, and pick apples, pears, plums, and more.
"I did a lot of research to make sure we planted the right varieties, so the garden could be as authentic as possible. Luckily, we found several documents describing the different plants that used to be in the garden. And of course, I had a lot of help from experts in the field," says Marianne.
In 2012, Marianne was awarded the National Cultural Landscape Award for her amazing garden, and in 2014 she also won the Europa Nostra Award.
Want to go for a stroll? As a visitor, you can book a tour of the beautiful garden complex, and have a taste of its abundance as well! You'll find juices and jams made from berries and fruit from the garden in the farm shop.
Recipe from the farm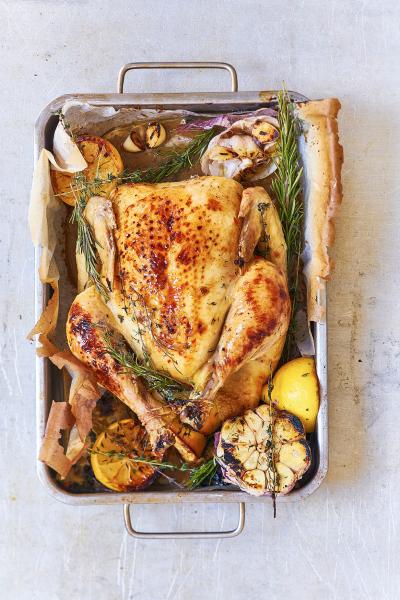 Want to try one of Marianne's favourite recipes? Make whole roasted organic chicken at home.
Organic chicken from the farm
Hovelsrud is much more than its garden and idyllic surroundings, it's also a fully operating farm! In 2016, Marianne started farming chicken. She had no doubts about how she wanted to do it.
"It had to be organic. As a lawyer, I have worked a lot with animal welfare, so for me personally, it was a goal to make sure that the chicken had a good life. That's why we only have certified organic chicken. The chickens have a large outdoor area where they can play and explore and they grow more slowly than most chickens that are industrially farmed. As a result, the flavour of the meat is just next level," says Marianne.
Hovelsrud was the first chicken farm in Norway to be granted the Animal Protection Label, Dyrevernmerket, which guarantees that the animals have better space and are healthier and more active than non-labelled, industrially farmed chickens.
"It's so much fun working with people who care about quality, and who really appreciate our way of farming."
Marianne
After a lovely stay at Hovelsrud, let's continue on to our next adventure.
We're heading to a manor farm, rich in history, where luxury and relaxation are beautifully combined ...
The manorial Hoel farm
"It's sort of a cliché to say it, but this place is truly unique. When you arrive at the farm, you get an immediate feeling of stress-relief. And that's what we want our guest to feel as well," says Christian Fredrik Sandberg Hoel, owner of Hoel farm.
Christian Fredrik, together with his wife Sabine, is the fourth generation of his family to run the farm. The oldest part of today's main building dates from 1719, but artefacts found on the property indicate that there has been a settlement there since the 6th century. Over the years, the farm has been both the property of the church and the crown at various times, but has been privately held since the end of the 17th century.
The farm is idyllically situated in a lush green landscape, and it's easy to spot with its bright red colour and characteristic clocktowers. It's an area that many associate with more southerly climes.
"Some call this area 'Norway's Tuscany'," says Christian Fredrik.
Fresh from the soil
At Hoel farm they take farm food to a whole new level. Hoel's head chef, Truls Evensen, has 15 years of experience. Together with his creative chef Robert Petersen, whose resume includes a stint at the incredible Noma restaurant in Copenhagen, they serve up magical dishes made with local flavours.
"Everything we cook is either locally produced or farmed right here at Hoel. We have a herb garden in the back, our own potatoes, barley, rhubarb, and grapes. Mjøsa lake provides us with fresh fish, while we buy meat and grain from farms in the area. We also farm our own chicken at Hoel," says Christian Fredrik, adding that they farm a total of 190,000 chickens a year!
If you dine at Hoel, expect quality and luxury. And of course, a menu dictated by fresh local and seasonal ingredients.
Do you want to wake up to this view?
Plan a stay at Hoel! Here, you're bound to find the perfect room.
With 37 grand bedrooms, spread across several buildings on the property, there is plenty to choose from, and each room is unique.
Wake up to a tasty breakfast with local delights. Afterwards, explore the farm's lovely garden.
If you're lucky, the apples are ready to be tasted.
Pro tip: Rent a kayak, row boat or canoe – an excellent way to explore more of the area.
In the heart of Mjøsa lake
In 2006, Edel started the network Midt i Mjøsa, In the heart of Mjøsa lake – a cooperation between more than 20 farms and shops in the area that offer unique experiences for visitors. The idea is to showcase all the fantastic attractions in the area and put the Nes peninsula and Helgøya island on the map.
Norwegian design
The Nes peninsula and Helgøya island is not only a place for rural overnight stays and farming. It's also a place full of people who dare to follow their dreams and who are not afraid to make unconventional choices. One of them is Edel Urstad, the woman behind Edel Design – a design gallery at the farm Alhaug Gard.
At Edel Design, you'll find clothes made from natural materials only, designed by Edel herself. Each piece is unique, and specially tailored for the buyer. This is not a place for fast fashion, it's a place for luxury and quality. One of Edel's specialities is year-round wool, which keeps you cool during hot summer days, and warm in the cold winters. Linen is another material you will find a lot of in her shop.
"The idea is to make practical, long-lasting clothes that can be worn on any occasion," says Edel.
Edel's boutique and design gallery is located in the old barn at Alhaug Gard, and the fitting room is in the farm's former silo. It's a place that's always filled with laughter and warmth, where people love to spend time. The clothes are made by hand in the attic workshop, directly above the boutique.
Alhaug is also a living farm that grows organic blackcurrant, which is supplied to both the Royal Palace and the Michelin-starred restaurant Maaemo in Oslo, as well as several eateries in Trondheim.
Dress like Michelle Obama
People seem to have fallen in love with Edel's clothes, and her way of running a clothing shop. In 2009, Edel was awarded Bedriftsutviklingsprisen – a prestigious Norwegian award given to those who have established a successful business based on rural and agricultural resources.
The prize also led to a special guest finding the design gallery. When Barack Obama came to collect his Nobel Peace Prize in Oslo the same year, First Lady Michelle purchased several items from Edel Design.
Are you a size 'sweet', 'right in the middle', 'lovable', 'xtra lovable' or 'xtraxtra lovable'? Edel Design was an early adopter of body positivity. Edel think it's important that everyone can celebrate their looks in her clothes, regardless of which size they're wearing.
"We even have a compliment guarantee. It says that if you don't get a compliment while wearing my design, you can return the piece," says Edel.
Now, let's travel north from Nes and Helgøya to Biri, a small village in the municipality of Gjøvik, located on the left bank of Lake Mjøsa.
Here, we're welcomed by Julie Sigstad, the 17th (!) generation to run the farm Sigstad Gård.
A walk through history at Biri
"Many years ago, this was one of the largest farms in the area. In the mid-19th century, there were as many as 54 families working on this farm alone! When I grew up, it was just me and my dad, so it was a lot different from how it used to be," Julie explains.
There is no doubt that Sigstad farm is a place that has a great deal of history in its walls. The farm itself dates from around the year 1,000, and was originally a Catholic rectory, which explains its location right by Biri church. Around the year 1640, the farm came into the ownership of the Sigstad family. Together with several other families, they raised livestock, grew corn, and worked the forest. At the time, the farm even had its own butcher, carpentry workshop, and saddlery!
When Julie and her husband took over the farm in 2015, there hadn't been any livestock there for years. However, most of the old buildings that housed farmers in the 17th century were still standing. Today, guests can enjoy a private stay in the most historic building, the 900-square-metre main house!
Wandering through the venerable main house almost feels like visiting a museum. It's cosy and inviting, but still full of details from another time. There's something new to explore in each room. The wonderful back garden, with its sun porch, is the perfect place to relax with a good book or a cup of tea.
Meals that nourish the belly and the heart
One of the main reasons Julie decided to open her doors to guests is her passion for cooking. In other words, get ready for an amazing culinary experience when you visit.
"I'm actually self-taught. While growing up alone with my dad, I made most of the meals, which was really the start of my passion for home-cooked meals. I use what the farm can give us, and we ferment, dry and preserve our ingredients so they can last after the season," says Julie.
At Sigstad, their mantra is 'locally produced, served with love'. You quickly see that this is a mantra they live by when seated at their table.
Tasty, locally produced cheeses, fresh bread from the farm kitchen, homemade jams and more.
What a way to start your day!
And for dinner: Pumpkin soup with vegetables from the garden as a starter ...
... and slow-cooked free-range pork for the main course. Farmed on site, naturally.
Recipe from the farm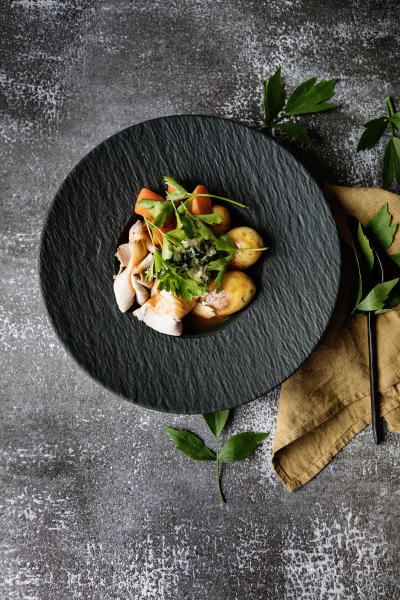 Want to try one of Julie's delicious recipes? Make her tasty roast pork at home.
Happy pigs
In 2017, the Sigstad family introduced livestock back to the farm. In a large outdoor area, not too far from the main building, 25 free-range pigs are playing, eating, and exploring the nature at Biri.
"Our pigs only live outside. Here, they get to roam around and be active, which, in my opinion, you can really tell when tasting the finished product. For me, it's also important to know where the meat comes from and to know that the animals have had a good life," says Julie.
In Norway, it's common to eat pork around Christmas, when it's all about traditional Christmas pork ribs. Back in the day, people were much more reliant on using the whole animal, which is something Julie wants to bring back.
"We have created an annual subscription to pork, where you can buy meat from half a pig, which is delivered to your door five times a year. Along with the meat, you get recipes on how to use the different parts. I started this as a way of preventing food waste and introducing people to fantastic, traditional recipes. People no longer know how to use parts such as the liver and such, and I want to show them you can make amazing meals with less common parts of the animal," says Julie.
Find more places to stay and things to do by Mjøsa lake.