"It's pretty cool that Oslo is about to become a new shopping destination internationally. That has basically never happened before."
Ida Elise Eide Einarsdóttir, Fashion Editor, KK and KK.no
A guide to
The best shopping in Oslo
with Fashion Editor, Ida Elise Eide Einarsdóttir
Ida Elise Eide Einarsdottir
Journalist and Fashion editor, KK and KK.no.
Ida Elise Eide Einarsdóttir (36) has a master's degree in journalism from the University of Oslo. She has worked as an editor and journalist in fashion and beauty for a number of years, and is widely used as an expert commentator in the media, especially for fashion and trends.
Ida is a fashion editor at KK, Norway's largest women's magazine, and has previously been an editor at the fashion news website Melk & Honning.
She is particularly passionate about Norwegian fashion and sustainability.
During the last decade, Oslo has developed into a new fashion hot spot, with cute vintage and second-hand shops, popular chains, luxury retailers, and high-end fashion brands. Ida Elise Eide Einarsdóttir, Fashion Editor of the Norwegian magazine KK, reveals her favourite shopping spots in the capital.
"There is something unique about Oslo that is now being revealed," says Ida, referring to the major changes the city has undergone during the last decade with respect to shopping and fashion shops.
When it comes to this topic, Ida definitely knows what she is talking about.
At just 36, she has already worked in the fashion industry for many years, travelling the world and watching fashion show after fashion show, and attending the most exclusive parties with the biggest designers and brands. Now, she can finally see how Norway is entering the world of fashion, in a way the country has never before.
Growing up just 30 minutes outside the capital, she has also seen the city transform from being a small dot on the fashion map, to becoming more and more of a key shopping destination.
Oslo now offers all kinds of shopping, from vintage stores to the latest high-end fashion, not just in the centre but throughout the city.
During the last decade, up-and-coming designers have founded fashion brands that have been successful internationally and have opened innovative locations. Many shops in the city now combine the hunt for clothes with cafés, art galleries, and flower displays.
"There is something unique about Oslo that is now being revealed."
Norwegian brands and designers come from all over the country, and you can nab some really great bargains by buying directly from factories or outlet stores. Check out shopping opportunities around the country here!
Norwegian and Scandinavian design
Norway might not have the longest fashion history compared to many other countries, which can make it hard to categorise Norwegian design and fashion as one particular expression.
"It's hard to say what Norwegian fashion is today, because many of
today's designers and brands are becoming more and more international
and are getting inspiration from around the world. But in general, you can
see that many Norwegian brands show signs of a minimalistic
Scandinavian design," Ida explains.
In the 1950s, designers in Norway, Sweden and Denmark
established the term Scandinavian design – a look inspired
by simplicity and the pure shapes of modernism, which
aimed to use light and long-lasting natural materials.
Norway also has clothing traditions that go way back in time. Examples are the traditional Norwegian costume, called a bunad,
and rich knitting traditions. Today, you often see contemporary designers using
elements of these traditions in their collections.
Roots in nature
Ida also believes nature has played an important role in the shaping of Norwegian fashion.
"We live in a country with big contrasts throughout the different seasons, so I think the focus of Norwegian fashion has been to make practical clothes to keep us warm. Being outdoors or hiking also lies in the very soul of the Norwegian people, and the thought has perhaps earlier been that 'hiking clothes cannot be trendy', but I think that has changed now."
"Another important aspect today may be our strong roots to nature and major focus on sustainability. I think no brands could be started now that did not consider sustainability," she says.
Since she works in Oslo and lives close by, Ida knows the city and its hidden shopping gems very well.
We asked her to show us her three favourite shopping areas here. First out is a completely new district of the city called Oslobukta. Bring a coffee to go, and come join us!
"This is a completely new part of Oslo, with everything you need in terms of shopping, culture and places to eat, it's in a way a new hot spot. And I think the best thing is that there is a lot of Norwegian fashion."
There are new buildings everywhere, in the fanciest shapes and materials.
Oslobukta is a new and fresh cocktail of everything from offices, residential building, small cafés, bars, and Michelin-starred restaurants. Not to mention the iconic Opera House and the new MUNCH museum.
And last but not least...
...fashion stores, packed with Norwegian design!
Ida points out two must-sees in the area: Envelope 1976 and Holzweiler.
"One of the things I love about many new Norwegian brands, like Envelope1976, is their focus on sustainability. Both in the clothes themselves, but also the furniture and the premises used to display them."
Some stores also have a little extra touch. Holzweiler Platz, designed by famous Norwegian architects Snøhetta, has combined a clothing store with a café and restaurant, inviting customers to take part in a different kind of shopping experience.
"I think the move they've made here with this combination is very innovative. This is also something that makes this brand more than just a brand — it's actually the first full-blown Norwegian fashion house. Watch out for this brand in the future!"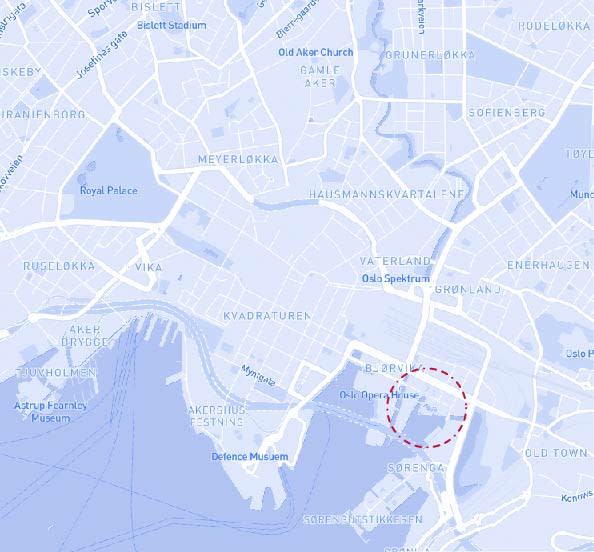 Shopping in Oslobukta
The Oslobukta area is an extension of the Barcode in Bjørvika, named for its barcode-like appearance. Barcode was completed in 2016 and consists of offices, apartments, and restaurants.
In Oslobukta, there are many different types of shopping, including furniture stores, perfumeries, and flower shops. But they have one thing in common.
"I would say they are mostly modern and contemporary, with a lot of Norwegian brands and multi-brand stores. It's also kind of a melting pot of different people here and a nice mix of different shops and eating places. I definitely recommend visitors to check out this place," says Ida.
Oslobukta also offers unique cafés, bars, restaurants, art galleries of all sorts as well as offices, hotels and apartments. The area is also known as the Venice of Oslo, since the buildings are built right beside the harbour, creating canals.
Now, let's check out another hip and very different shopping area in Oslo, Grünerløkka! Just jump on a tram, grab a city bike, or stroll for about 30 minutes.
Grünerløkka, or "Løkka" in the vernacular, is a much older area than Oslobukta, and has an exciting history and a lot of soul.
Stroll around the pedestrian streets and make sure to have enough time to check out all the cute little stores. There is something for everyone here, whether you are looking for the hippest up-and-coming brands...
...or surprise treasures owned by others before you!
"Velouria Vintage is almost an institution here in Grünerløkka, being one of the oldest vintage shops in the city. Here, you can really bag a great find if you are lucky, since the selection is thoughtfully curated by the owner, Åsa!"
In case you wondered, Grünerløkka is also the perfect lunch spot!
With full bellies and new energy, we are heading towards the last shopping area for today. But first – we have to visit this little tropical spot in the heart of Løkka, called Luck...
"Luck is a little gem, and for me the epitome of what Grünerløkka should be. A well-curated mix of new, unique brands of clothes and items, together with these huge living room plants (that are also for sale) makes a visit here an experience in itself!"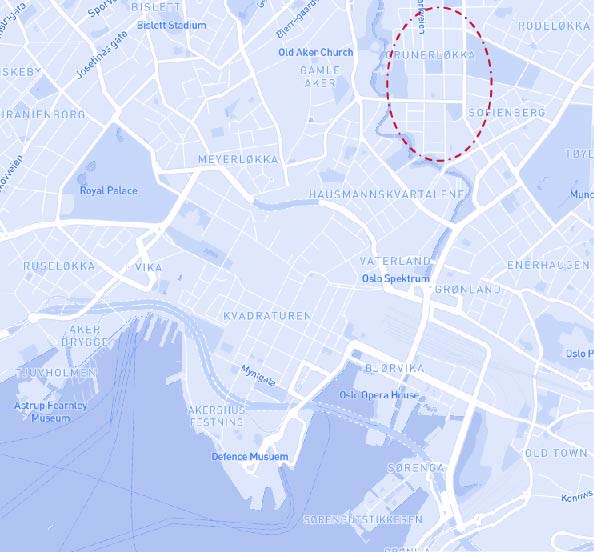 "It's simply a unique flora of shops with vintage, second hand and small independent shops that you won't find anywhere else."
Shopping in Grünerløkka
Grünerløkka was originally an industrial area with big factories along the Akerselva river. The people who lived there were mostly workers and their families. Towards the end of the 20th century, the area was in disrepair, but due to endless discussions about what to do with the buildings, it wasn't until the 70s and 80s that the area really got a makeover. After that, it has slowly become more and more attractive to live there again, and today Grünerløkka is a very hip place to visit.
"It's simply a unique flora of shops with vintage, second hand and small independent shops that you won't find anywhere else," says Ida.
"It has been pretty hip for a long time, and maybe lately got a bit more competition from other modern areas. But Grünerløkka has still managed to retain its uniqueness."
Now, let's bring our shopping bags with us and head to Ida's last shopping tip of the day, the city centre and Oslo's high street, Karl Johan.
"Earlier, Karl Johan was a place to avoid, with souvenir shops and chain stores. Today, it has finally become the grand boulevard it should be."
There are now many different contemporary Scandinavian fashion stores located side by side in the side streets. One of these is Livid.
"Livid is a very up-and-coming brand that sells both new clothes and vintage. They also repair clothes in their workshop department in Grünerløkka."
Want more shopping tips than just clothes?
No worries, last but not the least on Ida's list today is the jewellery store Tom Wood. Located just a few blocks away.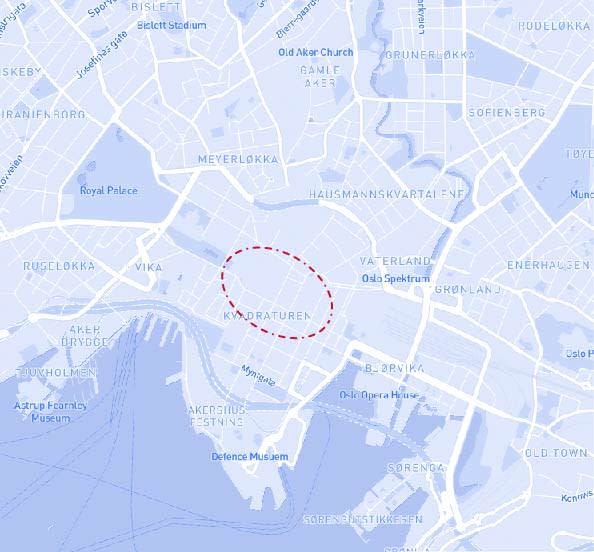 "The market for luxury fashion is large here. Louis Vuitton has opened its biggest flagship store in the Nordics here. Dior's first shop in Scandinavia is in Oslo, with Chanel just around the corner."
Shopping in the centre of Oslo
The city centre has gone through many changes over the years. The high street, Karl Johan, which runs straight from the central station up to the Royal Palace, has been there almost since the city was founded. Throughout the ages, the buildings have mostly been reserved for prominent businesses, restaurants and hotels, and in recent times both Norwegian and foreign chain stores that have been able to afford the exclusive location.
In the last decades, however, the street was filled with more souvenir shops and low-price chains, which made many of the city's inhabitants go shopping in other places. Then, a couple of years ago the tables turned again when many of the buildings in central Oslo were renovated, more and more Norwegian designers experienced international success, and more customers entered the luxury market.
This has in turn drawn more large international brands to the capital, and slowly but steadily transformed Oslo into the shopping destination it is today.
"International luxury fashion houses choose Oslo. It's of course not accidental. The market for luxury fashion is large here. Louis Vuitton has opened its flagship store in the Nordics here. Dior's first shop in Scandinavia is in Oslo, with Chanel just around the corner," says Ida.
You can now find brands such as Chanel, Dior, Louis Vuitton, Hermès, Burberry, Bottega Veneta, Jimmy Choo and Acne Studios like pearls on a string on the side streets along Karl Johan.
Explore the best shopping
Shop til you drop in Oslo!
Check out other things you can do in Oslo
Your recently viewed pages