Are you ready to experience a destination that's out of this world?
Strap yourself into your seat on the Aurora Spaceship...
...and set a course for space and the northern lights!
Travel to space at Andøya
It looks like a location from The Lord of the Rings, yet on this island in Northern Norway, sounding rockets are launched under the aurora.
Astrophysicist Anita Grønseth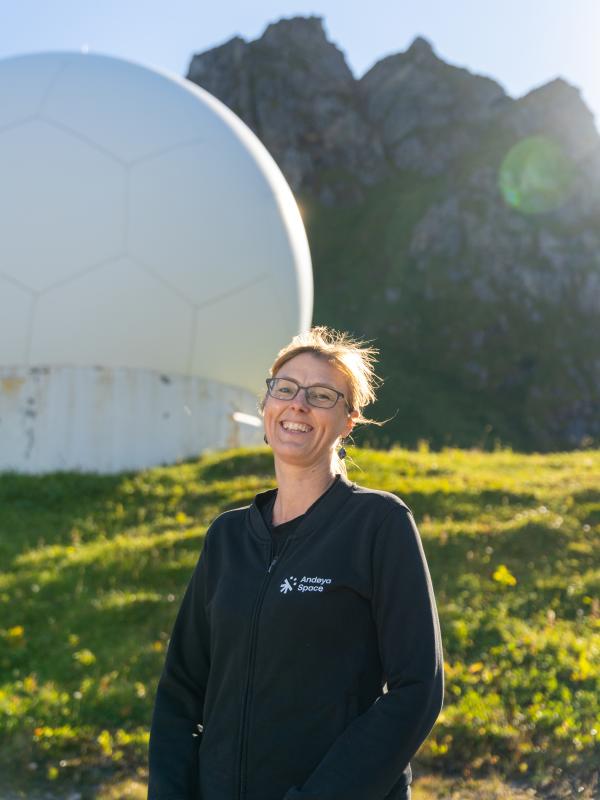 "I think I was born to be a space nerd! I've just always been fascinated by space."
Anita Grønseth, Astrophysicist at Andøya Space
Lots of aurora activity
Do you have a passion for space and the northern lights? Then you have come to the right place! Few places on earth are more suited for northern lights research than Andøya in Vesterålen.
From early autumn to early spring, you can see a lot of northern lights activity over Andøya. This gives space players from all over the world a unique opportunity to launch rockets into the heart of the aurora, from the rocket range at Andøya Space center.
"Much of the research is on the northern lights, and we are very strategically located under the northern lights oval," says Anita Grønseth, astrophysicist at Andøya Space.
On a very basic level, the phenomenon is quite easy to explain. Northern lights are created from the collision between electrically charged particles from the sun that enter the atmosphere of the earth. The northern lights, which are also called aurora borealis, appear at night when the sky is dark. It's like a celestial ballet of light dancing across the night sky, with a colour palette of green and blue, and sometimes even pink and violet.
Get tips on the best places to see the aurora in Vesterålen.
The perfect space location
On 18th august 1962, Norway entered space by launching the rocket Ferdinand 1 and flying it 101.5 km into the atmosphere from Andøya Space. Norway's only permanent rocket range is located among dramatic rugged peaks and the surging sea on Andøya island. While the area is remote and lies north of the Arctic circle, there is an airport nearby with several daily flights to Tromsø and Bodø.
"There aren't very many places in the world where you can launch such large sounding rockets," Grønseth explains.
The firing range faces the sea, which means that rockets can be launched without the risk of them falling on land and posing a danger.
Since the first rocket lifted off, Andøya Space has launched almost a thousand sounding rockets and scientific balloons.
"When such a big rocket lifts off, it really rumbles and you kind of feel it in your stomach. It's like an inferno down in the launch area."
Anneline Laupstad, staff member at Andøya Space Education
Andøya Space
• The facility is located in Oksebåsen on Andøya, 5 km southwest of Andenes.
• Andøya Space is expanding and is establishing an additional launch site for small satellites at Andøya.
• Andøya Space also operates a launch base for research rockets in Svalbard (SvalRak).
Their customers are scientists and space agencies from all over the world, including NASA.
Disrupting electrical systems
During the 60 years it has existed, the space center on Andøya has contributed key knowledge about how the aurora borealis and interaction between earth and sun affect communication systems.
"We saw that these solar flares had the effect that they could disrupt electrical systems, such as navigation systems and satellites, for example," Anneline Laupstad of Andøya Space Education explains.
According to NASA, the explosive heat of a solar flare can't make it all the way to our planet, but electromagnetic radiation and energetic particles certainly can. Known as a coronal mass ejection, or CME, these solar explosions propel bursts of particles and electromagnetic fluctuations into Earth's atmosphere. Those fluctuations have the potential to induce electric fluctuations at ground level that can blow out transformers in power grids.
"In today's connected world, we are very dependent on technology working properly. Research on these phenomena contribute to a better understanding of the sun, and better space weather forecasts that can predict strong geomagnetic storms," says Anneline.
The Norwegian rocket incident
On 25 January 1995, a rocket launched from Andøya triggered an alert in Russia. It was picked up by radar and interpreted as a Trident missile launched from an American submarine in the Norwegian Sea.
Photographs of Boris Yeltsin, the Russian president at the time, together with his 'nuclear briefcase' were shown around the world before it was discovered that the rocket's trajectory had been miscalculated by the Russians. Today, strict guidelines are in place to prevent such things from happening – fortunately.
Aurora and Mars missions
At the Spaceship Aurora visitor center you can experience what it's like to launch your own rocket. The visitor and activity centre offers exciting experiments, an escape room, astronaut training activities for kids, films, and exhibitions about space and the northern lights.
In the virtual missions, you can choose between travelling to near space to observe the aurora, or to journey all the way to Mars in search of life. See how pilots, navigators, scientists and engineers work together to solve the same scientific and engineering problems that real astronauts face!
Are you ready to engage your inner explorer?
3 fascinating facts about the aurora
1. The light show appears when charged particles from the sun are dragged into the atmosphere by the earth's magnetic field and collide with nitrogen and oxygen atoms. This collision releases flashes of coloured lights – which we see as the northern lights.
2. The colour of the light depends on the type of atoms involved in the collision.
3. Aurora borealis isn't the only light show the universe offers. The southern hemisphere has its own version called aurora australis – the southern lights.
Want to know more? Read more facts and fiction about the northern lights.
Look up
This is what the evening sky over Andøya can look like when manmade laser light meets the northern lights themselves. The two laser beams projecting a 'V' into the sky are from ALOMAR, the Arctic Lidar Observatory for Middle Atmosphere Research, located at the top of Ramnan mountain, 376 metres above sea level. The aim of the research is to study processes in the lower and middle atmosphere, among other things.
Not everyone is lucky enough to witness this on a normal evening trip, but the chances of seeing the northern lights are great in Vesterålen, if you visit during the right time of year.
Top activities in Andøya 
Ski down a snow-clad mountain one day and go on a whale safari the next. Andenes and Vesterålen is Norway's only year-round destination for whale experiences, thanks to its location close to the continental shelf.
On the mainland, you can get a close encounter with the king of the forest, on a guided moose safari. Perhaps under the northern lights, if you're lucky!
In the summer, you can enjoy hiking and striking views from hills and mountains, for example from the popular Måtinden summit, or Røyken mountain. Afterwards you can leap into the waves at the beautiful Bleik beach. The white sand is more reminiscent of a tropical paradise than a small island above the Arctic circle.
From here, you can also look out at Bleiksøya island, which is home to thousands of puffins, razorbills, guillemots, cormorants, and mighty sea eagles. Get close to the bird cliffs on a guided tour onboard a boat from Bleiksøya with Puffin Safari. They also offer deep-sea fishing trips – a true Northern Norwegian adventure!
At Andøya, you will also find one of the most beautiful stretches of road in Norway, the Norwegian Scenic Route Andøya, with plenty of impressive stops – both viewpoints, nature reserves, and even a rest area with extremely fancy bathrooms. This route is also excellent for those who want to go on a cycling trip. A visit to a native Sami family to learn about their culture is also a must when you are in the region.
Explore the northern lights
Great deals from our partners
Book your next Norwegian holiday adventure now.
Your recently viewed pages