THE TASTE OF
NORWEGIAN SALMON
If you've ever tasted it before, then you already know its rich and salty flavour.
No wonder it has become one of the most popular fish in the world, in just a few decades!
There are so many ways to cook it! Get inspired by the pros, and learn how to impress your dinner guests.
Make sure to stop by one of the visitor centres in Norway where you can learn all about salmon, such as the stunning Salmon Eye right on the Hardangerfjord.
Raw salmon, smoked salmon, fermented salmon, baked salmon, grilled salmon... The list goes on. Norwegian salmon is one of the most versatile and beloved fish on the planet.
Norwegian salmon – a versatile ingredient
Here are some of the most traditional ways to serve salmon in Norway:
Smoked salmon – often served as a topping on bagels etc.
Gravlaks – cured salmon, served in thin slices
Grilled, fried, or baked salmon, with herb and spice garnishes.
Fish soup with salmon
Some more modern versions include:
Salmon burgers
Salmon salad
Sushi and sashimi
Tacos
Salmon ceviche or tartare
Poke bowls
Quiche
Salmon pasta
Salmon fishcakes
Learn more about salmon in state-of-the-art visitor centres, sample it in delicious seafood restaurants, and get the best tips from our top chefs on how to prepare some delightful dishes!
Salmon has swum in Norwegian waters for thousands of years, and has deep roots in Norwegian culinary traditions. In fact, 'the red fish' was a staple of the Viking diet.
Some would even say that salmon was Norway's first tourist attraction. From the mid-19th century onwards, wealthy anglers from around the world, known as 'salmon lords', traveled to Norway to fish for Atlantic salmon. These aristocrats were known for their lavish lifestyles and expensive tastes, and their visits to Norway contributed to the development of the country's nascent tourism industry. This is the reason why there are so many beautiful, old, wooden hotels and lodges in Fjord Norway and other places that can still be visited today – whether you want to go fishing or just relax in wonderful surroundings.
Today, Norway is one of the world's largest exporters of salmon and at the forefront of sustainable salmon farming, with strict regulations and guidelines to ensure the highest quality and environmentally friendly practices.
From traditional to modern
As mentioned above, the pink fish has been a natural part of the Norwegian kitchen for generations. If you want to cook salmon in the most traditional Norwegian way, you can boil it and serve with boiled potatoes and cucumber salad.
The old preserving methods of smoking, curing and fermenting salmon have endured, making them one of the most popular ways to savour it. Salmon is commonly found at the breakfast table alongside scrambled eggs, and are frequently on the menu at celebrations and events. Fermented salmon, called rakfisk, is so popular it even has its own festival, Rakfiskfestivalen, held every November in Valdres.
For a modern twist, you can also use salmon in sushi, poke bowls, and tacos, or enjoy it grilled, fried, wrapped, or in a wok, seasoned with countless flavours from all corners of the world. It's great versatility, good taste and high nutritional content are perhaps the main reasons why Norwegian salmon is now so popular around the world.
Cook salmon like a pro
Head chef at The Salmon in Oslo, Harry Kristoffer Hermosa, shares his best salmon tips.
"One of the most popular dishes in our restaurant is grilled salmon. We marinate the salmon in a 50/50 mix of sugar and salt an hour before we start grilling it. Right before the grilling starts, we rinse away the marinade and dry the salmon with a paper towel. There is no need to add more spices and it tastes perfect," he says.
See the recipe and learn how to cook his other signature dish, salmon tartare, in the Norwegian Cookbook!
Salmon in sushi – a Norwegian invention
Don't worry, we aren't trying to take credit for inventing the over 500-year-old tradition of sushi. That's all on the Japanese. But did you know that salmon as a sushi topping is a Norwegian invention?
Norwegian salmon was first introduced to the Japanese market in the 1980s and 90's. Since then, it has grown to become one of the world's most preferred sushi toppings, according to research conducted by the Norwegian Seafood Council.
Sushi is not the only thing that tastes delicious with raw salmon.
If you haven't ever tried salmon tartare – you definitely should!
Another smoking hot tip is smoked salmon as a tapas dish!
Try it au naturel with scrambled eggs, or make lakseruller, salmon roll-ups, with traditional Norwegian lefse (soft flatbread) and a tasty garnish. So tasty!
You can find Norwegian salmon in every Norwegian supermarket, but it can also be purchased in many fish markets and at fishmongers and retailers around the world.
Ask your local fishmonger if they carry Norwegian salmon or can order it for you.
Camilla Bredesen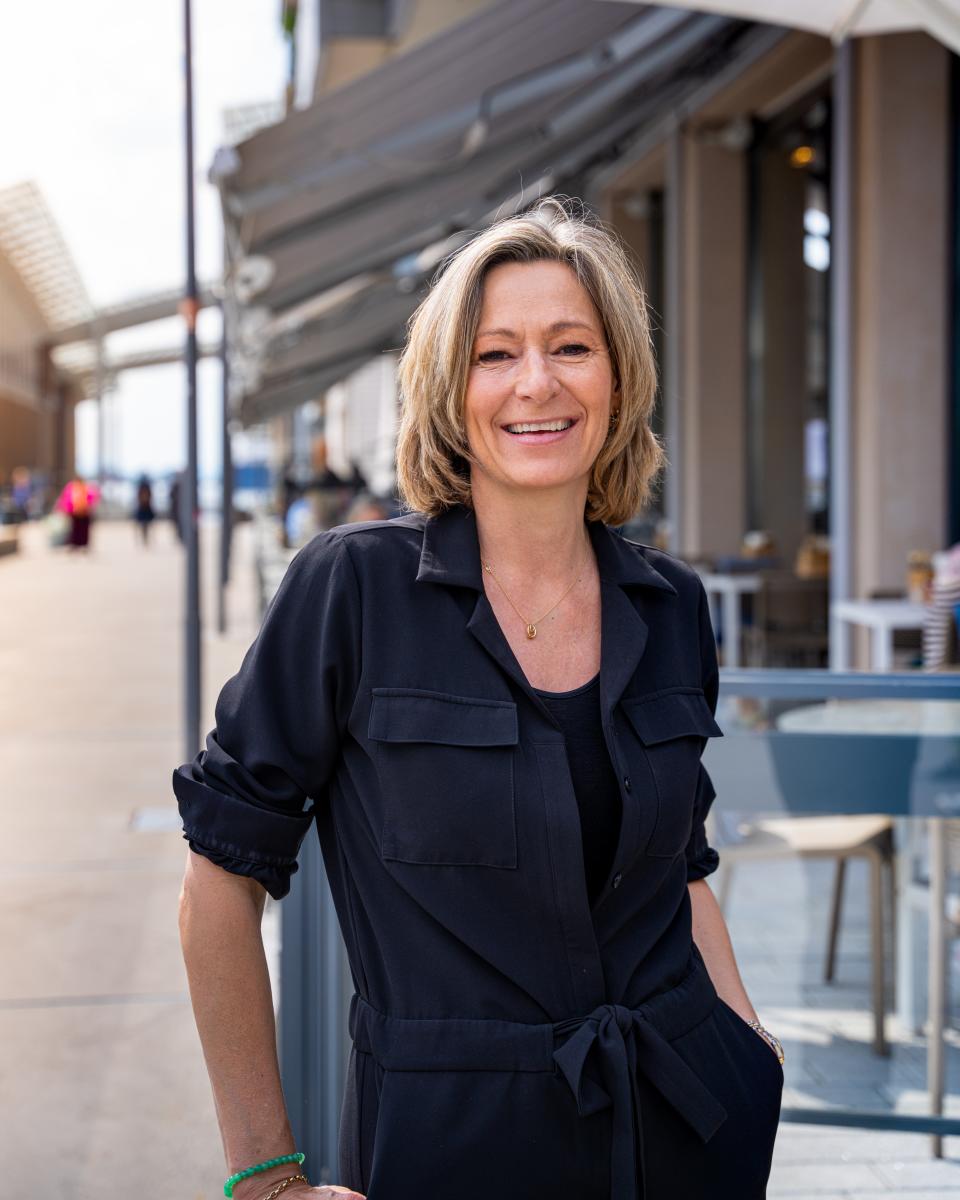 "More than 70 % of earth is covered by water, but as little as 2-4 % of the food we eat comes from the sea."
Camilla Bredesen,
General Manager at The Salmon
Salmon to the world
With a growing population, the world needs to eat more alternative protein sources than ever before.
"More than 70% of earth is covered by water, but only 2-4 % of the food we eat comes from the sea. We must cultivate more, and this is among the most sustainable and nutritious sources of protein we can eat. Seafood is Norway's second-largest export product, but the world's knowledge about Norwegian aquaculture is very low. We wish to increase this knowledge among both Norwegians and visitors," says Camilla Bredesen.
She is the general manager of The Salmon at Tjuvholmen in Oslo, a knowledge center (free entrance) in the middle of the capital where visitors can learn more about Norwegian aquaculture and Norwegian farmed salmon and enjoy a sample of the wonderful fish in its restaurant.
Salmon in the future
Another seafood experience centre was created in 2022, with a vision to shed light on both opportunities and challenges with the aquaculture industry. The Salmon Eye is located in the beautiful Hardangerfjord, and is shaped like – you guessed right: a salmon eye. In fact, it is one of the world's largest floating art installations that can be entered by the public.
There are several other experience centres around the country that focus on aquaculture and innovation.
You can also learn about the life cycle of wild salmon in Norway, such as at the Kvåsfossen National Centre for Wild Salmon in Lyngdal in Southern Norway.
In 2023, The Salmon Eye expanded further by opening a unique restaurant, Iris, which hosts exclusive Expedition Dining. Guests are transported to the floating restaurant by electric boat and served an 18-course dinner while enjoying panorama views of the fjord, glaciers, and mountains.
This is the second restaurant that you can visit in the middle of the ocean in Southern Norway. The world's largest underwater restaurant, Under, which opened in 2019 in Lindesnes, was awarded a Michelin star after just one year.
Take advantage of top offers
See our selection of trusted companies that work hard to make you happy all through your trip.
Your recently viewed pages