Trolltunga is no doubt one of the most awe-inspiring cliffs in Norway, situated about 1,100 meters above sea level and hovering some 700 metres above Lake Ringedalsvatnet.
Emergency telephone numbers
The Joint Rescue Coordination Center (JRCC) has the overall operational responsibility during mountain search and rescue operations.
51 51 70 00 – JRCC Southern Norway
75 55 90 00 – JRCC Northern Norway
For other emergencies:
110 – Fire
112 – Police
113 – Ambulance
120 – Emergency at sea
22 59 13 00 – Poisons Information Center
1412 TDD (textphone for the deaf or hearing impaired)
At the western edge of the Hardangervidda mountain plateau and near the town of Odda, Trolltunga (the troll's tongue) and the valley below were carved out by an icecap that covered most of Scandinavia during a series of ice ages. Every year, travellers from all over the world come here to do the hike and get a picture of themselves on or in front of the world-famous cliff.
Season
The hiking season lasts from 1 June to 31 August. Guided hiking is recommended, but experienced hikers can go on their own. Start your hike before 8 am to make sure you'll get back before it gets dark.
In the winter season from 1 October to 31 May, always go with a guide. Several companies offer guided snowshoe or skiing trips so that you can enjoy the view of a snow-clad Trolltunga.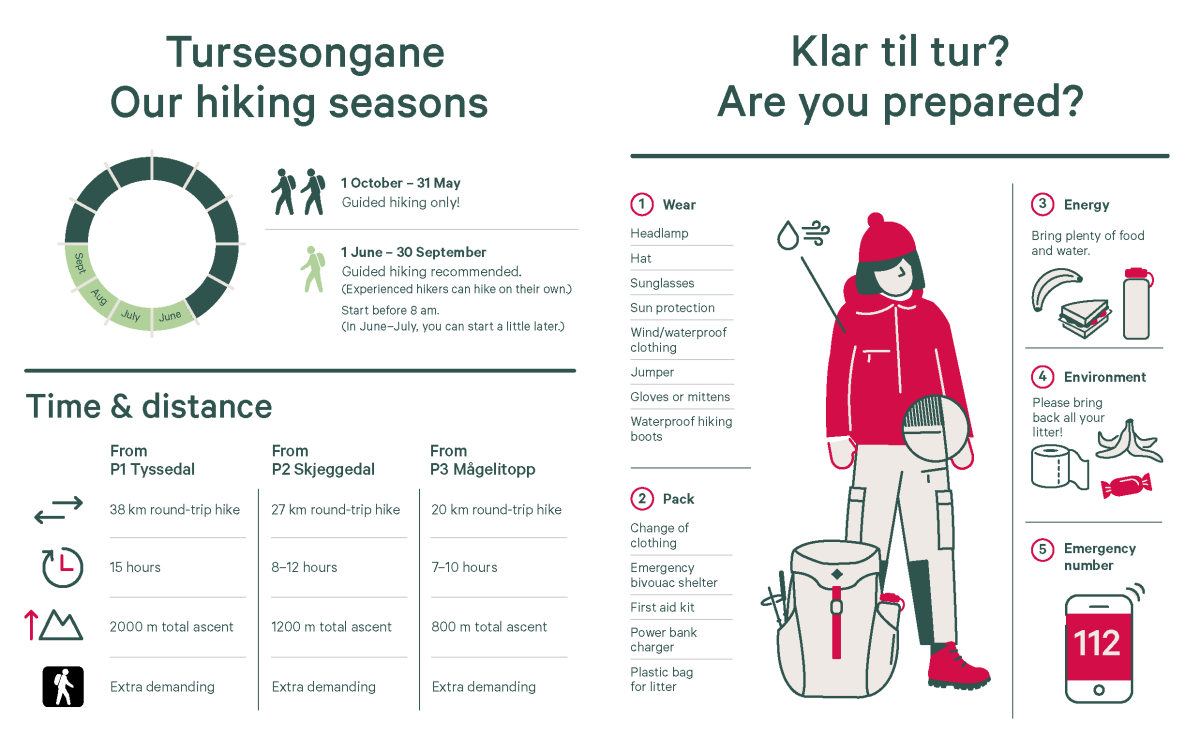 10–12-hour hike
The hike through high-mountain terrain up to Trolltunga (1,180 metres above sea level) is long and demanding both physically and mentally. You need to be properly equipped and in good shape, if you want to embark on this hike. But if you do, you will be rewarded with magnificent views!
From the main trailhead in Skjeggedal, the round-trip hike is 27 kilometres with an ascent of almost 800 metres, so you have to be prepared for a hike of 10–12 hours including breaks.
From the trailhead at Mågelitopp, the hike there and back again is 20 kilometres with an ascent of about 320 metres. Estimated hiking time is 7–10 hours.
Signs along the trail show the remaining distance to both Trolltunga and back to the trailhead.
We recommend that you have at least two days at your disposal to increase the chances of nice weather. Trolltunga is surrounded by steep cliffs and there are no fences. Falling from a cliff because of fog can certainly be fatal, so be aware.
Mountain safety tips
Every year, Norwegian volunteer rescue crews go into the mountains to retrieve travelers who have lost their way, are tired or injured, or have encountered problems after dark. These travelers are often dressed in everyday clothes and lack suitable equipment.
Do this:
Research the length, duration, and recommended physical conditioning for the hike you want to do.
Check the weather conditions and always listen to local mountain residents.
Buy or rent the right equipment for your trip.
Always bring enough food, drinks, and an extra change of clothes in your backpack.
Check out the possibility of joining a guided tour
Avoid this:
Do not wear jeans, trainers, or other everyday clothing.
Do not start your trip too late in the day, as you might risk having to hike in the dark.
Never start your mountain hike without being in good enough physical shape.
Do not depend on a map on your mobile device, as there is not always coverage in the mountains.
Don't leave anything, including trash, behind.
Be prepared and pack your backpack like a pro with our hiking tips.
Great deals from our partners
Book your next Norwegian holiday adventure now.
Get inspired
Here is a selection of other articles you might like.
Your recently viewed pages