Travelling by train is a great way to experience the varied Norwegian nature, while getting from A to B. Here is everything you need to know about how to take the train in Norway: where to find the cheapest train tickets, how to book a sleeping compartment, and details about the trips.
Travelling by train in Norway
Trains connect most parts of Norway. The northernmost station is in the city of Bodø.
There are several train operators in Norway including VY, Flytoget, Go Ahead Nordic, and SJ Nord.
To make booking your trip easier, try the travel planner Entur, where you can buy tickets and get travel suggestions from door to door.
Getting here and around
Vy – travelling by train has never been easier
SJ NORD – the adventure starts on the train
Vy Express – travel with bus throughout Norway
NOR-WAY Bussekspress – experience amazing scenery by bus
Norwegian – cheap flights in Norway and direct flights from more than 70 European airports
Widerøe – the largest regional airline in Scandinavia
Travel from crystal clears fjords to small villages in the high mountains. Continue through deep valleys and lush agricultural landscapes. Travelling by train in Norway is really something else. It might not be the fastest way to travel, but it's definitely worth the time.
Not only is the railway an excellent way to get up close to incredible nature, it's also a great way of travelling from A to B more sustainably. You can hop off the train to explore fascinating destinations close to the station, and hop back on again to continue your journey.
Experiencing Norway by train
A well-developed railway network, stretching from Kristiansand in the south to Bodø above the Arctic Circle, connects major cities in Norway. Most lines run through the capital city, Oslo.
There are also train connection to other Scandinavian countries. If you are travelling from Denmark, you can take the train from Copenhagen to Gothenburg in Sweden, before continuing on to Oslo.
Here is an overview of the main long distance lines in Norway: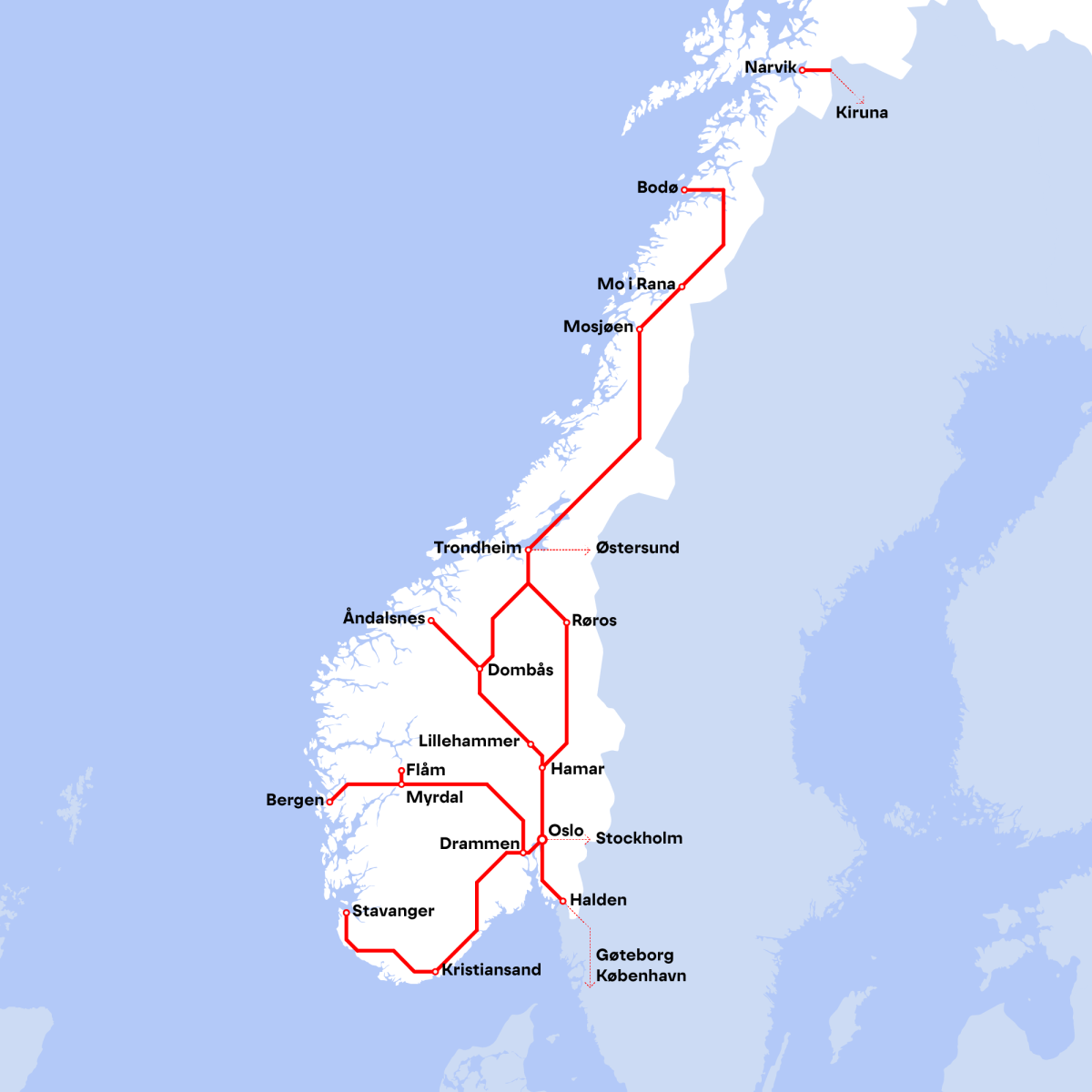 The Sørlandsbanen/Jæren Line: Oslo – Stavanger, an 8-hour trip.
The Bergen Line: Oslo – Bergen, a 7-hour trip.
The Dovre Line: Oslo – Trondheim, a 7-hour trip.
The Nordland Line: Trondheim – Bodø, a 10-hour trip.
The Rauma Line: Dombås – Åndalsnes, a 1 hour and 40-minute trip.
The Røros Line: Hamar – Trondheim, a 5-hour trip.
The Ofoten Line: Narvik – Kiruna, a 3-hour and 20-minute trip.
Author of Togferie ("Train holidays") Erik Sveberg Dietrichs has travelled the world by train. He has many great tips on dos and don'ts when travelling by train in Norway:
1. Booking tickets is easy
"The lines in Norway are operated by different train companies, but booking your trip is still easy as the entire journey can usually be planned and booked in the Entur app or on Entur's website.
You can also buy tickets at the main train stations.
2. How to get the best prices
"Remember that the cheapest tickets often sell out quickly, so book your trip as early as you can, especially in the summer, and look out for special offers," says Erik. 
If you are travelling with VY, search for its 'Lowfare' tickets. You can book your tickets here.
SJ NORD's 'Standard tickets' are its lowest priced tickets. You can book your tickets here.
If you are travelling with GoAhead Nordic​, search for its 'Lowfare' tickets.
"Don't forget that a lot of the train companies have discounts on tickets for children, young people, and seniors," Erik says. 
Travelling with your family to Oslo Airport? With Oslo Airport Express Train (Flytoget, in Norwegian) all children under the age of 16 travel for free when accompanied by a person over the age of 16.
Good to know: Most of the cheapest tickets can't be refunded, so if you need more flexibility, consider buying a 'flex ticket'.
3. Travelling with kids
"It's not a problem to travel with kids on the train. Some trains have a dedicated carriage for families with kids," says Erik.
If you are travelling with VY on the Bergen Line, the train has a free playroom for children, and an adjoining area with seating for the whole family. Just remember to tick the Family box when booking.
SJ Nord also has family carriages with playrooms for children on its trains.
Although most trains have a dedicated area where you can park your pram, remember to check in advance as you might need to book a place before your trip.
If the train has a restaurant car, the staff can help heat your baby food.
4. The night train
"Many of the lines have night trains as an option. Just make sure to book the trip early if you want your own sleeping compartment, as they sell out quickly," says Erik.
You'll find night trains on:
the Bergen Line (Oslo - Bergen)
the Dovre Line (Oslo - Trondheim)
the Nordland Line (Trondheim - Bodø)
the Sørland Line (Oslo - Stavanger)
If you're taking the night train on the Dovre line (with VY), each compartment features two single beds (75 cm x 200 cm), duvets and pillows, and of course everything else you need such as a sink, mirror, towels, soap and bottled water. The compartment sleeps two. If you have children, two adults and two small children can share a compartment. It's recommended that children older than 6 years old have their own bed. There is a wake-up call 10 minutes before the train arrives at its final destination.
SJ Nord's night trains on the Dovre Line and the Nordland Line feature sleeping compartments with two made-up bunk beds, towels, sinks and drinking water. Families with two small children can share a compartment. If you're travelling with older children, it's recommended that they get their own bed.
Sleeping compartments on the Southern Line (with GoAhead Nordic) contain two beds (70 cm x 200 cm). On these trains, children under the age of 6 travel for free and can share a bed with an adult. A maximum of 2 adults and 2 children can share a single sleeping compartment. You can pick up water and earplugs for free from the food and drink trolley.
5. Don't forget your charger!
"Most of the trains have a charging port next to the seats, so make sure you have enough power on your phone to take photos," says Erik.
Lean back and enjoy the ride in comfortable seats, and enjoy a stunning close-up of the beautiful scenery.
6. Get some work done
"You also have free internet access on many of the trains, so if you bring your computer you can get some work done while travelling," explains Erik.
7. Food and drink
Most of long-distance lines have a restaurant car where you can buy food and drinks. In addition, snacks and beverages can be bought from a vending machine.
"Many trains have a good selection of food, but you may want to check in advance, so you can bring your own food or a coffee thermos if needed," says Erik.
8. Bring a book
"But only for the tunnels! You don't want to miss out on the view," says Erik.
9. Be on the lookout for wildlife
"If you're lucky, you can spot musk ox on the Dovre Railway," says Erik.
Bring binoculars on your train journey to increase your chances of seeing the majestic musk ox … or maybe a moose, reindeer, or an eagle? Many journeys also take you through bucolic landscapes dotted with grazing farm animals.
10. Rail holidays
Mountains, fjords, cities... stations along the different Norwegian lines are located in the most spectacular places, and can be a perfect starting point for your adventures. No car required! Whether you're looking for action, relaxation, or family fun, many attractions and destinations are just a short walk or bus ride from the stations.
Explore some of the world's best train journeys:
You can bring skis, bicycles or anything else you need on your holiday on most trains. Make sure to check with your train company in advance, as you might need to book space for your gear. The same goes for pets.
If you use a wheelchair, have mobility issues or have other needs, it can be a good idea to visit your train company's website to check accessibility options. You can also get help to book your tickets and anything else you require at staffed stations.
Ready for a holiday by rail? Get tips on what to see and do close to the best stops on the Bergen Railway, Dovre Railway and Rauma Railway.
Great deals from our partners
Book your next Norwegian holiday adventure now.
Your recently viewed pages