Norway has a well-developed network of award-winning scenic railway lines, from Kristiansand in the south to Bodø, above the Arctic Circle.
Getting here and around
Airlines: 
Norwegian – cheap flights in Norway and direct flights from more than 70 European airports
Widerøe – the largest regional airline in Scandinavia
Train travel:
Vy – travel by train around Oslo and to Bergen
SJ NORD – travel by train north of Oslo
Express buses:
Vy Express – travel with bus throughout Norway
NOR-WAY Bussekspress – comfortable long distance buses
Train companies in Norway
There are several train operators in Norway including VY, Flytoget, Go Ahead Nordic, and SJ NORD.
The VY railway network includes local trains in the Oslo area, and regional lines such as the Dovre line and the Bergen line.
Flytoget Airport express runs between the Oslo area and Oslo International Airport.
Go Ahead Nordic have lines from Oslo in the east to Stavanger in the west, including the Sørland line, the Arendal line and the Jæren line.
SJ NORD operates seven lines in Norway, including local trains in the Nordland and Trøndelag regions, and regional lines such as the Nordland line, the Dovre line, the Rauma line, and the Røros line.
Main train lines in Norway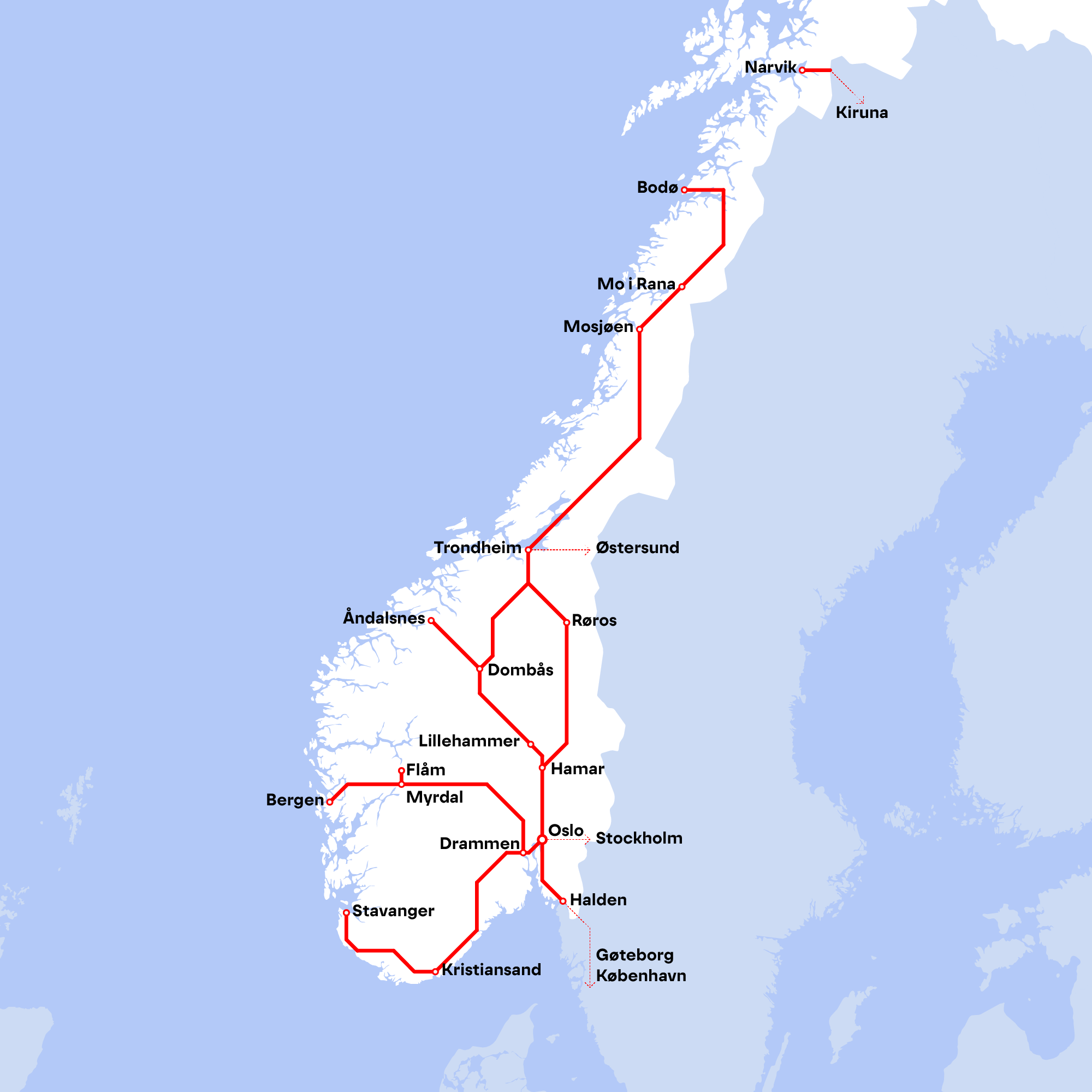 Trains connect Norway's major cities, and most lines run through the capital city, Oslo. Norway's extensive railway network spreads out in a rough fan shape from Oslo, which is also well-connected by train with the other Scandinavian capitals, Stockholm and Copenhagen.
Travelling by train in Norway offers amazing views, with many routes passing through stunning landscapes of mountains, fjords, countryside and lakes. The most famous line is the Bergen Railway, named one of the world's best train rides by Lonely Planet. It runs between Oslo and Bergen across Hardangervidda, Europe's highest mountain plateau. It also connects to the incredible Flåm Railway, one of the world's steepest railway lines.
The Dovre Railway between Oslo and Trondheim, and its branch line The Rauma Railway between Dombås and Åndalsnes, the mountaineering capital in Fjord Norway, are other award-winning lines that take you through some pretty amazing scenery. 
Tickets
It's often easiest (and cheapest) to book tickets on the train company's website or app. You can also use the travel planner Entur, which provides travel suggestions for all kinds of public transport in Norway. Tickets are also available from machines at most main stations, at ticket counters, and on board. Note that there is a surcharge if you buy your ticket onboard the train, and your seat might already be reserved. 
For the cheapest tickets, look for 'low fare' tickets. Bear in mind that most of the cheapest tickets can't be refunded, so if you're looking for flexibility, consider buying a 'flex ticket'.
Get more inspiring train travel tips from Norwegian train expert Erik Sveberg Dietrichs.
Great deals from our partners
Book your next Norwegian holiday adventure now.
Start planning your trip
Filter your search and check out the offers below.
Your recently viewed pages