Winter adventures
in Ålesund and the Geirangerfjord
So quiet, yet so majestic …
What's hiding around the next bend?
The breathtaking UNESCO-listed Geirangerfjord, clad in white ...
… snowy adventures at Stranda Ski Resort …
… and urban winter adventures in the coastal town of Ålesund.
Explore the fjords, islands and mountains of Sunnmøre and the stunning Geirangerfjord in winter. Whether you wish to travel by public transport or by car, here are some excellent tips for an unforgettable trip.
The charming art nouveau town of Ålesund is nestled among majestic fjords and mountains on the west coast of Norway. It's an excellent base for outdoor activities and for experiencing the UNESCO-listed Geirangerfjord in the tranquil winter season.
Make sure you set aside enough time to experience everything there is to do in the area, from skiing and other winter sports, cruises, and hikes, to spas and fine dining.
You can fly directly to Ålesund from many places in the world with KLM, SAS, Norwegian, and Widerøe. Another popular route is by sea, onboard Hurtigruten and Havila Voyages or on the beautiful train ride to Åndalsnes, combined with a bus to Ålesund. You can also enjoy an epic road trip through picture-perfect landscapes.
Let's start our journey with the truly unique and iconic coastal town of Ålesund!
Towers, spires and beautiful architectural details are all around as you stroll through the historical streets and by the Brosundet strait, which divides the town in two.
The town has some of the finest architecture in the world as a result of a massive reconstruction project following a devastating fire in 1904. The buildings' designs were influenced by architects who was inspired by the Art Nouveau movement that was popular in Europe at that time. At this time, Norway had also recently become an independent nation (1905), and there were many who wanted to build up the national identity. Therefore, on several of the buildings you can see ornament similar to what you find on stave churches and inspiration from the Viking Age, etc.
The town is surrounded by the majestic Sunnmøre Alps and is situated at the gateway to several of the country's most famous fjords, including the Hjørundfjord and Geirangerfjord.
Climb the 418 steps to the top of the Aksla viewpoint to enjoy these stunning views of the city and the surrounding fjords!
Here, you'll also find the Fjellstua Restaurant, where you can enjoy a delicious meal.
Buy a coffee at one of the cute local coffee shops and enjoy people watching from the window.
Apotekergata No.5 is a charming little gem, selling delicacies from producers in the area and lunch and coffee to take away or enjoy in its cafe.
Or bring a coffee with you and go for a stroll.
The Molja lighthouse is a nice spot for a break with its view of the coast. You can even spend the night there!
Feeling adventurous? Explore the coast and the city from a kayak!
Join a guided tour with experienced guides, and bring your swimsuit with you because …
But be aware: the temperature in the water is for real Vikings! How long can you last?
The famous fishery that built the town
This fjord is a very special place for more than just swimming. The Borgundfjord fishery has a long history dating back to the Viking Age, and remains an important industry for the local economy and culture in the Sunnmøre region to this day. In waters just outside Ålesund, the Borgundfjord cod spawns from around the middle of January to the end of March, which it has done for countless years. The cod is known for being big and rich in flavour, much like its "brother" in Northern Norway, Skrei.
The fjord is also known for its rich stocks of species such as haddock and saithe, and the rich culinary traditions that has sprung from such an abundance of fresh seafood.
Although klippfisk (salted and dried cod) is one of the main ingredients in the well known Bacalao dish, which is popular worldwide, it is also used in many other local delicacies.
Do you want to go fishing yourself? Contact visitalesund.com for information on group tours, which are held during the annual cod fishing festival "ByTorsken", among others. You can also join fishing trips on the fjord and participate in competitions with wonderful prizes.
"Two or three times a week before service, we go out into the woods together picking ingredients we can fuse into vinegars, sugars and salts to flavour up the menu throughout the year."
Skyler Milner, head chef at Bro
Coastal gastronomy
Ålesund has a wide range of restaurants, from tasty neighbourhood eateries to luxury restaurants, all serving local specialities. Food enthusiast, Helen Siverstøl, at Destination Ålesund and Sunnmøre, shares her own favourite spots:
"The fresh seafood in Ålesund is completely unique, and often comes directly from the fjord to the table", says Helen, and continues:
"The coastal gastronomy at Bro og Apotekergata No. 5 is innovative and exciting! The bacalao at XL Diner is a widely known classic. At Anno you will find delicious crispy pizza with local cheeses and hams. The cod tongue taco at T2 is a vigorous and tasty choice now in winter, and Zuuma is a clear choice for sushi. Tapas with a local twist at Bryt is a great place to meet with friends. Another favourite is svele and cocoa with a view of the city from Fjellstua."
In addition, she also recommends Orient and Tajmahal.
Since it's prime season for the Borgundfjord fishery and local speciality, Borgundfjord cod and Skrei, we went to one of the restaurants which offer this: The Nordic restaurant, Bro.
The restaurant is located right beside the Brosundet strait, where some of the fishing boats come straight from the sea. Bro has a strong focus on everything the coast has to offer, and the menu changes regularly to reflect the season. The chefs also make an extra effort to obtain unique ingredients throughout the year, as Canadian head chef, Skyler Milner, tells:
"Two or three times a week before service, we go out into the woods together, and spend some time while picking ingredients we can fuse into vinegars, sugars and salts to flavour up the menu throughout the year. So, it's a very busy time for us during spring and summer when we can get out and get these flavours that are entirely wild and entirely local, like ramson, spruce buds, birch shoots chanterelle, porcini, rowanberry, juniper, and the list goes on."
Winter cruise
Let's move on to exploring a really magical experience: The UNESCO World Heritage site of Geirangerfjord.
One of the best ways to explore this area this time of the year is on a winter cruise. Geiranger Fjordservice, offer boat tours hosted by Fjord Rangers, who conveys interesting stories related to the unique fjord landscape while you travel through. The winter months are typically quieter, which means you can enjoy the breathtaking views without the crowds.
The boat usually makes two to three trips a week and goes there and back to Ålesund in one day. But if you want to really explore Geiranger, you should definitely add some more days to your visit.
Get a glimpse into the past as the experienced Fjord Rangers tell you stories about life on the small, abandoned farms clinging to the steep mountain sides.
Can you spot them?
"The farm Knivsflå is located on the edge of the cliff, close to the waterfall "De Syv Søstre" (The Seven Sisters)". Up here, the terrain was so steep that they tied the children down, so they would be safe while the adults worked."
Ioannis Hoel Zervas,
Fjord Ranger at The Norwegian Fjord Centre
Don't forget to wear warm clothing, so you can catch the best panoramic views topside. The wind can sometime get pretty rough out there!
"We are best friends from New York, and it's the first time we're visiting Norway. The original plan was to see the northern lights in Tromsø. But then I was looking for other things to do too, and thought I could bring Laura here. We're excited to see the Seven Sisters waterfall and maybe do a hike afterwards."
Victor Joel and Laura Elizabeth Miller, originally from from Puerto Rico and Greenwich, Connecticut
"I'm travelling from France with my son. We are in Norway for a week and were in Oslo and Bergen before we came here. We really wanted to go here to see the fjords and the nature, enjoy the scenery, and take pictures!"
Aurelie Simon and her son, from France
"We are two friends from Latvia and Spain. I love boats, water and mountains, and have wanted to see this fjord for a long time. We are very excited to see the waterfalls!"
Katerina Begunovich from Latvia and Aliia Muratova from Spain
Rent a car from our partners
Winter experiences in Geiranger
As most tourists visit Geiranger in summer, a lot of cafés and restaurants are only open during the main season. You should therefore remember to double-check the opening hours if you want to visit a specific place. Another thing to note is that some of the nature attractions might look a little different now than during summer season. One example is the Seven Sisters waterfalls, which sometimes freeze in midwinter, while other mighty waterfalls are still flowing.
Luckily, there are also a variety of activities on offer at the hotels. At Hotel Union, you can visit the restaurants, pools, spa area, bars, and nightclub and there are fun activities for the kids all year around.
The historic hotel, located in the middle of Geiranger with a fantastic view of the valley, was built in 1891 in the iconic Swiss style. The original hotel was taken down in 1979, before being rebuilt and expanded to what it is today. Don't miss the hotel's vintage car exhibition and exhibits that let you learn all about the history of the hotel and Geiranger.
Travelling to Geiranger in winter
The sightseeing boat from Ålesund is only one of the ways you can get to Geiranger in winter. You can also go by bus, with connection to major places such as Ålesund and Oslo.
Travelling to Geiranger in winter by car can be a thrilling experience with its breathtaking scenery. Just keep in mind that winter driving conditions can be challenging, so make sure your car is equipped with winter tires and check the weather forecast to be prepared.
There is a car ferry, connecting Geiranger to Hellesylt, where you can travel on to the ski paradise of the Strandafjellet mountain, Ålesund, and other towns in Fjord Norway. The ferry ride is also an experience in itself, as it winds its way through the beautiful Geirangerfjord. Enjoy a coffee and the typical Norwegian "ferry food" favourite, svele (a thick pancake), while taking in the beautiful scenery from the café window on the boat.
Erlend Kløvjan Ringstad, guide at Uteguiden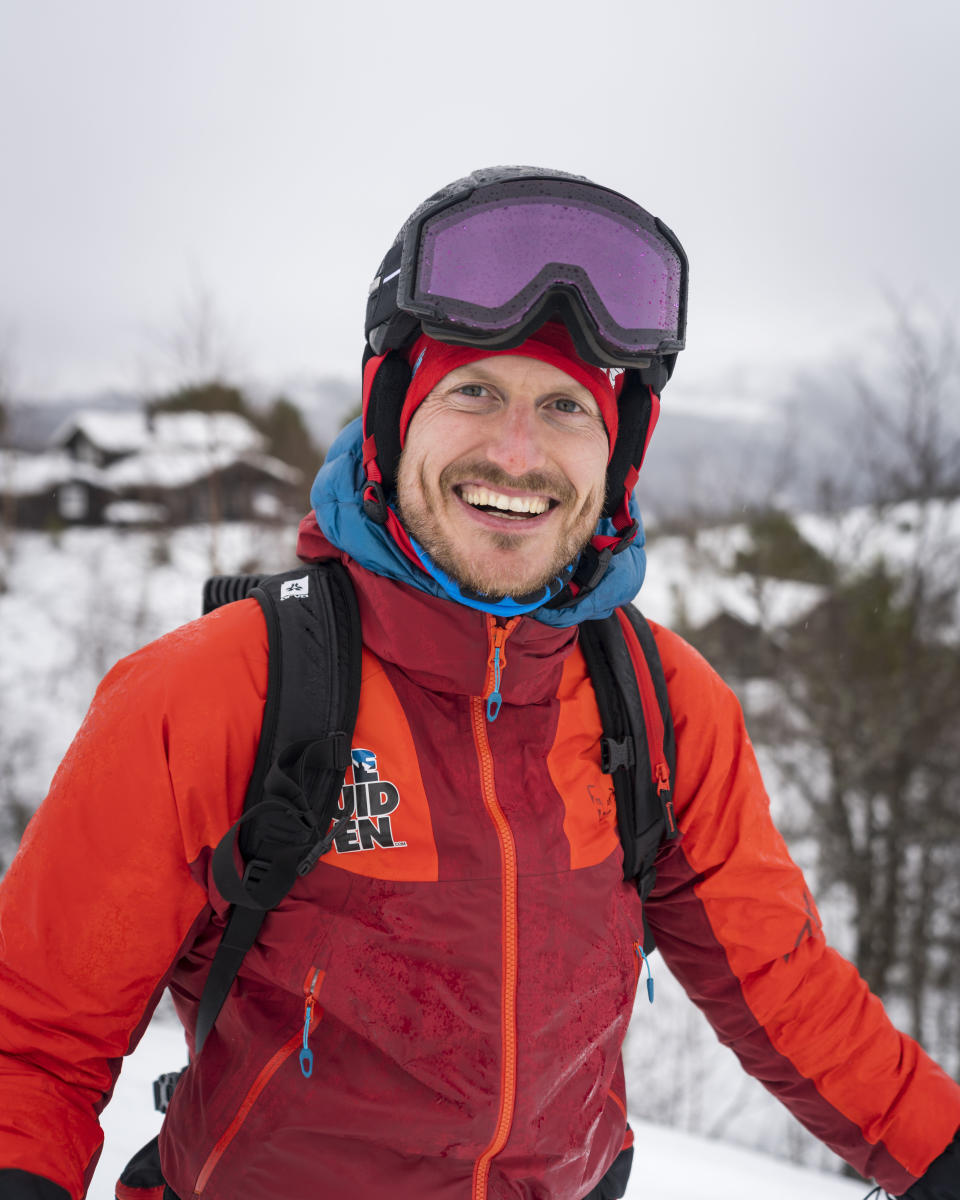 Erlend Kløvjan Ringstad works as a guide at Uteguiden in Fjord Norway. 
The Sunnmøre Alps are a snowy paradise
Stranda Ski Resort is one of the most popular ski resorts in the famous Sunnmøre Alps. The resort is situated on the shore of the Storfjord, and offers visitors a unique combination of fantastic skiing opportunities and stunning scenery.
Aside from skiing and snowboarding, Strandafjellet and the local guide company, Uteguiden, also hosts a range of other winter activities, such as snowshoeing, ice skating, and cross-country skiing. There are plenty of dining options, including restaurants, cafés, and bars, many with stunning views of the surrounding mountains and fjords, providing the perfect backdrop for a relaxing meal or après-ski drink.
You can also go up and down the mountain with the gondola and simply enjoy the views or have a snack at the Fjord Panorama restaurant, of course!
Guided tours in the area
If you want to make sure you find the best spots to explore the stunning scenery and outdoor activities in the area, join a guided tour! In addition to Uteguiden, other tour operators, like Fjord Nature, Ræin and Offbeat Adventures also offer a range of guided tours in the area and activities for visitors of all ages and abilities.
Erlend, one of the guides from Uteguiden, took us snowshoeing and skiing at Strandafjellet.
"We aim to offer the best possible quality through having the best guides and the safest tours. We want to give people good experiences," says Erlend.
Uteguiden is known for its experienced guides and tailor-made tours that cater to the needs and preferences of each individual group. With them, you can also go ski touring, snowboarding, hiking, climbing, rafting, coasteering and kayaking, from Ålesund to the Geirangerfjord and in many spots in the Sunnmøre Alps.
Although there are some periods that are a little quieter, he assures us they have activity all year round, because as Erlend says: "there is always something to do as long as you want to be active".
"The busiest times in winter are in March and April, while high season during summer it's from June to August. But we have contacts all around, so we always try to find a solution if a guest wants a trip. Our base is at Sunnmøre, but we work throughout the Møre and Romsdal region, in addition to Hemsedal, Bergen and Sogn. My favourite is Valldal, that is located between Geiranger, Trollstigen and Åndalsnes."
Do you need to bring your own equipment for the trip?
"No, we basically provide everything in terms of hardware, including skis, avalanche equipment, kayaks, snowshoes, sleeping bags, and tents. Even though we don't have a huge storage room full of clothes, we will try to fix something if a guest requests it."
Home of Norwegian culinary favourites
The Stranda area is not only famous for being a ski and snow paradise. It's also home to the most popular frozen pizza in Norway: Grandiosa. Every year, over 25 million are consumed (in a nation of 5.5 million!). The pizza has even been named one of Norway's national dishes in several surveys.
Other local favourites, which are perhaps more suitable for a gourmet palate, include Stranda Skinke from Stranda and Fenalår made by Tind Spekevarer (both of which are types of cured ham) and the ciders from local farm Skarbø, which is also famous for their award-winning cheese. These specialities are often found on Norwegian plates on a variety of different occasions.
After a drive of about an hour and half from Stranda, we are back in Ålesund again.
Important note: don't forget to pick up some gifts for the folks back home (and for yourself)!
Just a 10-minute scenic boat ride from city, you'll find one of Norway's biggest outlets, Devoldfabrikken with lots of Norwegian and international brands like Devold, Bergans, Swims, Swix, and others!
The area also consist of more than just fashion and niche shops. The old factory also houses ceramics workshops for local artists …
... a museum, an indoor activity park for kids, and a café with a rich selection of food and drink for when you and your credit card need a rest.
Are you ready for an unforgettable winter adventure?
Fjord Norway is waiting for you!
Fjord Norway
Find more things to do and places to stay in Fjord Norway.
Take advantage of top offers
See our selection of trusted companies that work hard to make you happy all through your trip.