Become a better traveller
9 TIPS FOR RESPONSIBLE TRAVEL
We do have a huge impact on the world, and local nature and communities when we travel.
For good – and for bad.
But you can make a difference.
You can travel better.
The upshot? Your total travel experience will also improve!
The Norwegian travel industry has pledged to cut its carbon footprint 50% by 2030.
We also need to take better care of nature, increase local value creation, and secure working opportunities all year round.
That way, local communities can thrive and become even better places to live and to visit.
Lonely Planet rated Norway one of the top travel destinations in 2022, since we already work hard with sustainability. 
And we promise to work even harder. 
1. Travel off-season and find hidden gems
Travel to less visited places or off-season. You can then experience unique places to stay, and exciting activities recommended by locals — without the crowds.
2. Dine on local delicacies
Visit cosy farm shops and dine at restaurants that offer local food.
At the amazing underwater restaurant Under, you can experience both (very) locally-sourced Michelin-starred food AND spectacular architecture.
3. Explore more with a local guide
Ever wanted to go ski touring, kayaking or canyoning? How about seeing a glacier up close?
A guide will help you get the most out of an activity, show the best local secrets, and keep you safe.
4. Choose more sustainable mobility and public transport
Take nothing but pictures, and bring your rubbish with you when you leave. 
Enjoy the Norwegian wildlife and make sure you abide by the laws of nature.
... that means travelling less and staying for a longer time.
7. Extend your stay with a workation
This could be your new office view...
Escape the beaten tourist path. Get insider tips on how to experience the places you visit like a local!
#hiddengems
9. Spend your money on local experiences
By buying from local businesses, you're helping to boost the local economy and local employment.
By choosing to be a better traveller, you will make the locals happy.
And remember: a smile always creates more smiles!
...and more generations of travellers will be able to follow in your adventurous footsteps.
Let the eco-labels guide you
Make sure your holiday in Norway has the smallest footprint possible.
Look for eco-certified providers while travelling.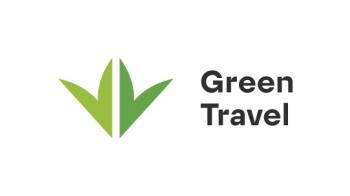 Every time you see this Green Travel symbol on our website, you know that the associated products and offers are a part of an official environmental labelling scheme. The Green Travel symbol is a common navigation to all qualified environmental schemes used by tourism enterprises in Norway. The symbol helps you find eco-certified alternatives.
The certifications below fall under Green Travel. These certifications indicate that providers follow strict rules relating to the production and management of waste, energy, transport, use of chemicals, and rules for subcontractors. These measures go beyond what the Norwegian law requires.
The following certifications fall under Green Travel:
Ecotourism Norway
This national certification is awarded to businesses and operators that hold a high international level in ecotourism. Over 100 strict criteria on environmental performance, host-role, local community integration, and purchasing must be met and often improved. The certificate is renewed every three years.
Eco-Lighthouse
Eco-Lighthouse enterprises work towards satisfying requirements and implementing environmental measures on a systematic and ongoing basis in order to create more environmentally friendly operations and safer work environments. Enterprises are certified subject to independent assessment and must undergo a recertification process every three years.
Green Key
A global eco label, recognized by GSTC, for hotels, small accommodation providers, campsites, and attractions. Certified businesses must meet strict criteria for waste, energy, water, procurement, green areas, CSR, and staff involvement. High standards are maintained through annual certificate renewal, a rigorous application process, documentation, and frequent audits.
Blue Flag
A prestigious, global label granted on the basis of a series of stringent environmental, educational, safety-related and access-related criteria that must be met and maintained, which is aimed at beach, marina and sustainable boating tourism operators. More than 4,100 sites in 46 countries are Blue Flag certified.
Best deals from our partners
Book your next Norwegian cycling holiday now.
Your recently viewed pages