"You get into a different rhythm. In everyday life, you have so many plans and things to keep in mind.
When you are out on a trip, you can relax completely."
Oda Ramsdal
"Walking Norway from South to North was a dream I had had for a long time. Being in nature long enough to experience the transitions of the seasons, and the cycle of the animal and plant life. The circle of life."
Hiking the length of Norway
From south to north, with Oda Ramsdal
Oda Ramsdal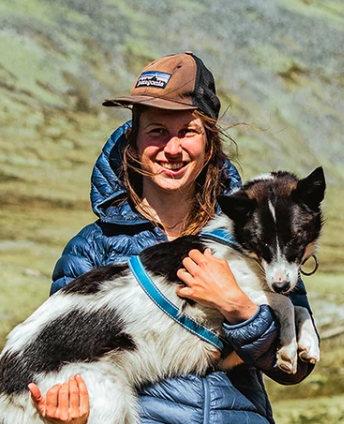 Oda Ramsdal (27) is a graphic designer and photographer from Sveio in Fjord Norway.

From May to October 2021, she walked over 3,000 kilometres alone, from Lindesnes to the North Cape. It was a trip that offered varied landscapes, changing seasons, and varying weather conditions, but also a lot of beautiful meetings with both people and wildlife.
Instagram: odaramsdal
3,000 kilometers of nature experiences
Hiking Norway between Lindesnes in the very south of Norway and the North Cape at the very north, has become very popular in recent years. Oda Ramsdal spent 162 days on the trip, which is over 3,000 kilometres long.
You don't need to walk the whole distance to get good nature experiences, though. The route can easily be divided into shorter stretches, or maybe you would rather cross Norway between east and west instead? You should, of course, also aim for shorter distances and have a bit of experience before embarking on really long trips.
If you're eager to start walking, jump straight into
the planning stage
. For more inspiration, scroll below to discover more of Oda's story!
"When walking long distances, it's easy to focus on the goal. That's when you have to remember to enjoy the path
– the things that happen, the people, and the nature experiences you get along the way."
Preparing for adventure
Oda grew up in a family that loved being outdoors. She remembers her parents taking the kids on short or long trips almost every day, and learning how to appreciate nature and feel the closeness and respect for it.
"Nature can be your friend, but you do not have much to contend with it if it decides to turn rough on you."
Completing the six-month-long trip was a dream she had had for many years. But before heading out on her main mission, she completed many shorter training trips first.
Oda chose her own trail, which is shown below. If you are looking for other trail suggestions, the official European Long Distance Path, E1, is a popular option that starts at the North Cape and ends in Italy. Just be aware that it is not always a marked path, and it only goes through Norway between the North Cape and the Røros area before crossing the border into Sweden
Essential hiking gear
hiking boots
wind and waterproof jacket and trousers
wool underwear and wool sweater
an extra change of clothes and socks
cap, scarf, and gloves or mittens
enough food and drink for the whole trip
map and compass
a fully charged mobile phone in a plastic bag to avoid water damage
a small headlamp and extra batteries
sunglasses and sunscreen
first-aid kit and extra blister plasters
a reflective vest
pocket knife
Southern Norway
Hiking Norway south to north: part 1
Part 1: Southern Norway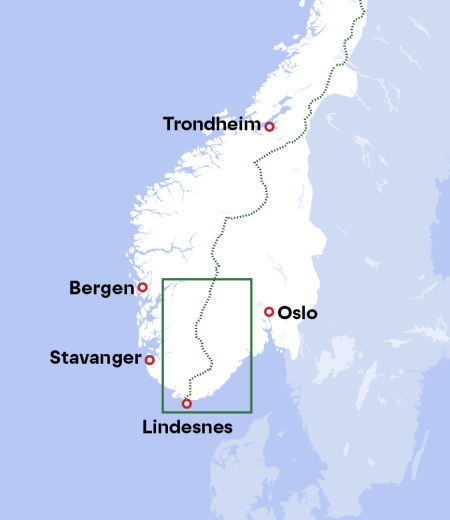 A start full of contrasts
In the middle of May, Oda said goodbye to her family, who had come to see her off at Lindesnes, at the southernmost tip of Norway. While they waived their flags and cheered her on, she took her first steps on the 3,000 km long trip, feeling extremely excited.
"You can compare it to having Constitution day, your birthday, and Christmas all at once. Then I suddenly walked straight into the hardest part of the trip – seen in retrospect," says Oda.
The snowmelt turned out to be far more demanding than she had imagined.
"It was the biggest contrast. It was a brutal struggle and there were wide rivers that I actually thought I would die crossing, but I also witnessed the beauty of nature waking to life again after a long hibernation. My days were full of close encounters with wildlife like grouse, a beaver that had built a bridge for us, moose and wild reindeer."
"There were also some of the craziest sunsets I have ever seen. When you are so physically exhausted, these small impressions get so big. I have cried while watching a few sunsets."
Oda's tips for Southern Norway:
Recommended: "The Austheiene mountain and moor region is a hidden pearl, you really get a sense of wilderness there, especially in the northern parts. The Hardangervidda is the Hardangervidda (i.e. obviously well worth a visit). The Skarveheimen and Hallingskarvet are also great natural areas. If you want, you can walk from cabin to cabin, owned and run by DNT (The Norwegian Trekking Association), in the mountains in all these areas."
Not recommended: "I would maybe have waited until the snow had melted away. It was an amazing experience, but it was extremely exhausting. I would maybe rather head for the Setesdalsheiene or Sirdalen at the start. Austheiene has very demanding and hilly terrain."
The Jotunheimen, Rondane and Dovre National Parks
Hiking Norway south to north: part 2
Part 2: The Jotunheimen, Rondane and Dovre National parks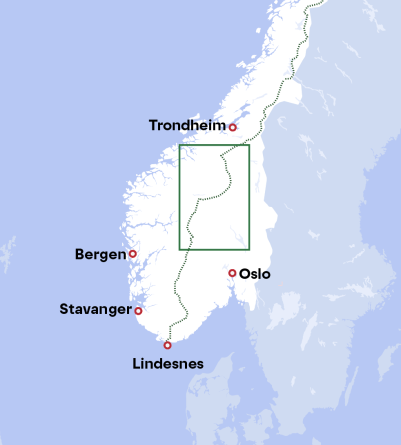 "One very hot day, we even stumbled upon a small stream close to a little cabin – with cool beers hidden in it!"
Summer and farm life
Good things come to those who wait, and after a month and a half of the snowmelt season in the south, Oda finally reached the Jotunheimen, Rondane and Dovrefjell National Parks. She describes it as the most euphoric experience of the whole trip.
"I especially remember one moment when I entered Jotunheimen and knew there would be no more snow. A small bee suddenly buzzed around us, and we saw fantastic fields of flowers. This little bee gave me so much joy and became a great symbol to me, that such a small thing could mean so much."
Oda's boyfriend, Marcus, and their other dog, Kora, joined her for a while at this stage of the journey.
"This became my summer holiday, and I really enjoyed it. We just strolled through the mountains, and it was a very carefree period. One very hot day, we even stumbled upon a small stream close to a little cabin – with cool beers hidden in it! I guess some hunters had left it there. But I think it's best if we keep that place secret,"she laughs.
"In addition, the area from Jotunheimen, Bygdin and all the way to Forollhogna is a paradise of small mountain farms, with sour cream porridge, and cows and sheep grazing freely all around. You actually get a historical view of what farm life was like in earlier times, and you really get to know the country and the old traditions that you might not have been aware of."
Oda's tips for Jotunheimen, Rondane and Dovre:
Recommended: "There are so many nice places, and it's an area with a lot of wild reindeer. We were honoured to meet one of these wild herds north of Dovre, and getting to watch their dynamic was very special. But of course, if you meet wild reindeer, you must keep your distance and show them respect. They are endangered and under a lot of pressure."
"Maybe I should mention the less known 'little brother' of Rondane and Dovre too – Forollhogna. It's a very impressive wilderness area with a lot of good fishing. If you enjoy finding your own paths and walking outside marked trails, it's a perfect fit for you, as there's not that many trails there."
Not recommended: "Actually, there is nothing here I would not recommend. These are very beautiful and open high mountain landscapes. It's relatively easy terrain, although there are of course occasional swampy, rocky, and steep areas."
Be aware: In the Dovre area, look up for the musk ox, who migrates down from the mountains in the summer. They might be dangerous if feeling threatened.
Trøndelag
Hiking Norway south to north: part 3
Part 3: Trøndelag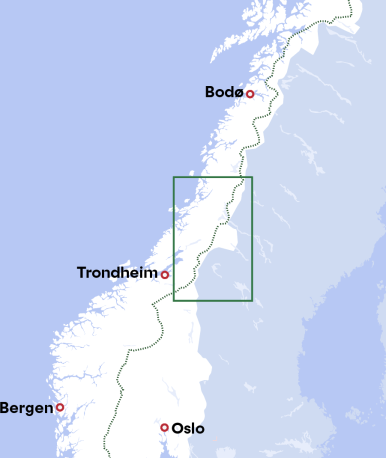 "It was lovely to arrive in this lush world of animals and cloudberries in Trøndelag, after walking through miles of high mountains and dry, rocky areas."
Bogs, cloudberries and kindness
From years before Oda started her epic hike and right up until she entered the middle part of Norway, in Trøndelag, she was warned of one thing in particular: Bogs.
"I had heard about hill bogs, flat bogs, hanging bogs, sinking bogs – all kinds of bogs. So you can say I was very aware of bogs before I got there. But when I walked, it was a pretty dry summer, so I thought it was a lot better than everyone had warned me about."
"It was actually lovely to arrive in this lush world of animals and cloudberries in Trøndelag, after walking through miles of high mountains and dry, rocky areas. And The Blåfjella and Skjækerfjella National Park is an area I would like to explore more in particular."
After eating a lot of cloudberries, fishing in lakes and having a good time, Oda also visited the two traditional mountain farms Gaundalen and Gjefsjøen, where she says she was "greeted with open arms and so much warmth that I was completely overwhelmed."
She then made a decision that she would come to regret a few days later...
"The terrain now started to get very challenging. I was also supposed to meet my boyfriend in Røyrvik very soon, so I decided to take the asphalt road – which was both the easier and quicker alternative. After this stage, my feet started to hurt every time I took a step."
Oda's tips for Trøndelag:
Recommended: "I absolutely recommend visiting the two mountain farms Gaundalen and Gjefsjøen. They are both full of history, it is possible to sleep there, and at Gjefsjøen you can also get food. The farmers who live there are so nice, and out there in no man's land, you really get a sense of travelling back in time."
Not recommended: "I should absolutely have done more research on if there were other alternatives than walking on the asphalt. Especially if you walk with a backpack and mountain shoes. I also wish I had jogging shoes in the depot that I reached after the Blåfjella and Skjækerfjella National Park."
Nordland
Hiking Norway south to north: part 4
Part 4: Nordland
Beautiful views and backup solutions
After crossing into Nordland, Oda's feet started to hurt more and more. But that didn't stop her from enjoying the magnificent views of the high mountains in the area. Her boyfriend Marcus also joined her along the Nordlandsruta, a 650-km-long hiking trail that goes all the way from Børgefjell to the tip of Nordland.
"Børgefjell is a very beautiful national park, where I also caught the biggest fish in my life! It wasn't that big maybe, but it's the largest I have ever got and a very nice memory," says Oda.
From Umbukta, Oda continued alone again, and now her feet hurt worse than ever before. She spent a few days resting with family in Misvær, but when she continued after this, she hit the wall.
"I lay crying in the tent while it was raining so much outside, it was like the sky was sympathizing with me."
"I had to send Thorin (her dog) home, because he was an extra burden on my body. Up to this point, the thought of quitting hadn't crossed my mind, no matter how bad the weather got or how exhausted I was. But after crossing the Junkerdalen valley, my feet couldn't take it any more. I remember all the surroundings being so beautiful and Junkerdalen was dressed in autumn colours, but things were chaotic inside my head," Oda says.
"That night, I lay crying in the tent while it was raining so much outside, it was like the sky was sympathizing with me. I sent a message to my family in Misvær and told them I couldn't walk any more, and the answer I got was pretty simple: Okay. Bringing a bike tomorrow. That message was exactly what I needed."
Oda's tips for Nordland:
Recommended: "There are a lot of things to recommend here. The Nordlandsruta trail is exceptionally beautiful, and especially along the Okstindene mountains."
"Having a road bike in the coastal areas of Salten and Steigen was fantastic and something I can really recommend. The alternative route by foot, through Rago National Park, is a very winding landscape where you might have to climb with ropes in some places. Most people therefore walk on the Swedish side of the border here."
"There is also a very nice place called Tverrelvsnes, where they serve the famous NLP buns (NLP means Norge på langs - 'Norway lengthwise'). Everyone who is walking the length of Norway is awarded with a sweet bun there. Tverrelvsnses is roughly the halfway point of the whole trip."
"Last but not least, I would stop at Grannes camping, not far from Mosjøen. There is a funny guy there who likes to tell crazy hunting stories, and they sell beer."
Not recommended: "Walking on asphalt without jogging shoes is a bad idea. Also, be aware that the weather can change quickly. One evening we had the most beautiful sunset through the Okstindan mountain range, but the next morning the fog so thick that you couldn't see more than one metre in front of you."
Troms, Finnmark, and the North Cape
Hiking Norway south to north: part 5
Part 5: Troms and Finnmark
The adventure reaches an end
Entering Troms was a great victory for Oda. After getting through many ups and downs, she finally approached Dividalen National Park, about which she had long been dreaming of. She walked together with her cousin for several days, and had the nicest autumn days until she eventually again encountered the first snow flakes of winter.
"Facing the winter again felt like completing a circle. I started with winter in the south, and now we were meeting again," she says.
The terrain in Reisadalen was very rocky, but the tallest peaks were now behind her, and she got through it. Oda met lots of nice locals there who wanted to help her out in different ways. One man set up an oven outside, so she could make herself a frozen pizza. She also met a German girl, Karina, who was walking the same route, and they walked together to Jotka Mountain Lodge.
From there, Oda started walking alone again, but now the winter was really starting to flex its Arctic muscles.
"I had some days with really hard rain, and my tent collapsed the first night. The second night was even worse. I slept with all my clothes on, and in the morning everything was frozen, so I had to thaw the zipper to open my tent. I carried on like this for five days, and I was barely sleeping because I had to keep walking to stay warm," says Oda.
"Despite the bad weather, I got a really nice experience camping under the northern lights one night. It was incredible, it must be as close you can get to magic."
Oda never considered seeking shelter in the nearest town despite her cold and wet experience, as she was confident of her own ability to endure. She emphasizes that everyone should know their own limits here, though, and not take any risks since the terrain and the polar climate can be merciless.
"On the last of these rough days, my shoes were even frozen when I put them on, and I couldn't feel my feet when I was walking. I was also very weak from a lack of sleep, so when I entered the warm cabin that my friend had prepared for me and got to cuddle up under a warm down duvet... I have no words to describe that wonderful feeling," says Oda.
On the last days before she reached the North Cape, it was so windy around the Porsangerhalvøya peninsula that Oda was advised not to go there as it was an unnecessary risk. Instead, she chose to follow the road for five days.
"Despite the bad weather, I got a really nice experience camping under the northern lights one night. It was incredible, it must be as close you can get to magic," she recalls.
After that, she had to cross the 7-km-long Nordkapptunellen tunnel to reach Magerøya – the island on which the North Cape plateau lies. It is not recommended to cross this tunnel by foot, though.
"It was extremely steep and very uncomfortable when I came to the bottom, and I felt like all the ocean would flow inside there. I was so relieved when I came out on the other side. Unfortunately, though, I couldn't continue the last 19 kilometres to the plateau on the same day because of the storm. But happily, I got to wait it out in a jacuzzi with some nice people."
She describes the last day of the journey as surreal.
"I just wish I could keep walking from north to south and back again for the rest of my life."
"It was very weird. I had been working towards this goal for so long, but as I approached the goal, I didn't really want it to end. My last day of walking therefore became rather emotional. I was alternating between laughter and tears all the way to the North Cape plateau. When I finally reached the globe, I just stood there reflecting on some existential thoughts. What else can you do when a years-long dream has finally come true? But it was of course wonderful to reach the goal and to see my boyfriend again. I just wish I could keep walking from north to south and back again for the rest of my life."
Oda's tips for Troms, Finnmark and the North Cape:
Recommended: "I really recommend visiting the Jotka Mountain Cabin and the grocery store in Masi, close to Jotka, because they were both run by very nice people. I also enjoyed the very charming town of Honningsvåg, where we spent a day after I had made it to the goal."
Not recommended: She advises everyone to do thorough research before heading into this part of the trip, where you might spend many days walking in remote areas.
Hiking route guide, step by step – Troms and Finnmark
From Narvik, head toward Dividalen National Park. Then continue along the Swedish border all the way up to Reisadalen valley and the national park at the start of the Finnmarksvidda plateau.
Finnmarksvidda is the home of the indigenous Sami people and is a large and remote area that is home to reindeer and other wild species. The climate here is Polar, and it can be very cold in the autumn, winter and spring. Make sure you have proper equipment before walking here.
After the Finnmarksvidda plateau, continue north past Stabbursdalen and Porsanger until you reach Smørfjord. From here, follow the main road up to Kåfjord. Passing through the seven-kilometre-long underwater tunnel in Magerøysundet on foot is not recommended. Try to find alternative transport here.
At Magerøya, head north across Guhkesgielas, until you reach the road again. Then follow the last stretch all the way up to North Cape.
Preparation tips for long distance hikers:
Set your goals
Figure out what you want to get out of the trip. There are so many options, routes and choices when hiking long distances like "Norway between south and north". What places and things do you want to see, and how much time do you want to spend? It is also a good idea to have options if "plan A" cannot be realized.
Pack safe and smart
Try to find gear with the lowest possible weight to avoid overloading yourself, but also focus on safety. Have a well-equipped first aid kit, with everything from abrasion plasters to antibiotics, and repair kits for your equipment. It's also a good idea to bring a satellite phone in case of emergency.
Laws of nature
Make sure to respect the laws of nature, and understand the Norwegian right to roam before you start your tenting adventures.
Plan depots along the way
It's not physically possible to carry food for months or even weeks. Instead, you can ask someone to help you send packages containing rations to depots along your planned route. You can pack whatever you want in the depots, of course, from food to equipment.
Divide the trip into shorter distances
You don't need to walk the longest trip in Norway to have beautiful nature experiences. What about dividing the trip into shorter distances, or maybe walking Norway between west and east? That way, you have a lot more options in terms of the length of your hike – you can actually do it in anywhere from three hours to thirty days.
Treat yourself
Even a true outdoor adventurer should be allowed to treat herself with a good night's sleep from time to time. There are many cosy mountain lodges and DNT (Norwegian Trekking Association) cabins, some of which also sell food, all over the country. DNT also has numerous marked trails and paths, if you don't want to blaze your own trail.
Experience Norwegian wilderness
Start planning your hiking adventure and learn more about Norwegian friluftsliv
Practical hiking information
Get useful tips on everything from what to wear to how to behave in the Norwegian wilderness.
One of the best things about hiking is that everyone can do it! Find a hike that suits you.
Explore the map and find hiking suggestions in the area you are planning to visit.
Plan your hiking adventure
Filter your search and explore the options below.
Take advantage of top offers
See our selection of trusted companies that work hard to make you happy all through your trip.
Get inspired
Here is a selection of other articles you might like.
Your recently viewed pages